Things have been quiet with Manny Pacquiao over the past two months since his disappointing defeat to Floyd Mayweather. He's had surgery to repair a torn rotator cuff on his right shoulder, and the recovery from that procedure will keep him on the shelf through the end of 2015. He's eager to get back into the ring in 2016, although there have been no firm plans announced as to when, where or against whom.
Pacquiao to Dubai?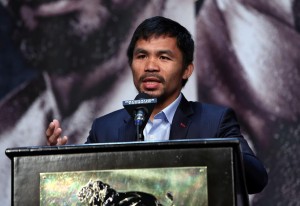 There have been some clues, though. One rumor which continues to pop up is that Pacquiao's next fight will be in Dubai. Top Rank is reportedly putting a show together for Dubai in November, and plans to have Pacquiao attend as a guest.
While a fight in Dubai would be huge global business, it would likely come against a modest opponent. It would be difficult to generate stateside interest and arrange for live broadcasting of the bout here, so why bother to make it against a top flight opponent? Further, coming back from injury, a layoff, and the one-sided defeat to Mayweather, team Pacquiao will be looking for a confidence booster, both for Pacquiao himself, and for fight fans wondering about his credibility at this stage.
Therefore, figuring out Pacquiao's next fight is of less interest than what would come after that, and how many more times Pacquiao plans on fighting altogether. There don't figure to be too many outings left before the last hurrah.
A comeback fight in Dubai, against a likely second tier opponent, nixes one other oft discussed rumor. It would be highly unlikely to see Pacquiao step into the ring against Amir Khan, for instance, in his next outing. A Pacquiao vs. Khan fight could still be on the table for later in 2016, but there's a host of variables to be figured out first. Khan is still angling for, and likely missing out on, a fight with Floyd Mayweather. But with Kell Brook, Keith Thurman and other potential opponents in the loaded welterweight division, Khan has a tough road ahead of him regardless of which direction he turns.
Pacquiao vs. Crawford?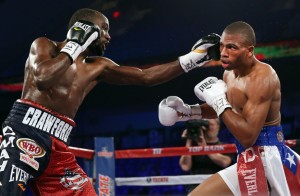 Let us all hope that there are no actual serious discussions being held for a Mayweather vs. Pacquiao rematch. As if the first fight wasn't enough of a money grab, I don't believe I could stomach the pointless drivel of the promotion yet again.
There's the prospect of a third fight with Timothy Bradley, although that certainly isn't very compelling, either. There's no need to dredge up that series once again. Juan Manuel Marquez is always lurking, and a showdown with his arch-rival could make for a succinct curtain call to Pacquiao's career, whether he emerges victorious or not.
The most interesting potential route for Pacquiao though, as well as one which may actually be quite likely, is a buildup towards an eventual showdown with Terence Crawford, perhaps in 2017. Crawford, of course, is in the Top Rank stable, and has well-deserved acclaim as perhaps the future star of the sport.
If Pacquiao fights twice in 2016, garnering decent wins and some momentum, but appearing more worn out than back in his groove, then Top Rank could decide it's time to cash out on Pacquiao, and build Crawford in the process. As Mayweather and Pacquiao each felled Oscar De La Hoya, grabbing his popularity in the process, 2017 could see Crawford do the same against the Filipino icon, continuing the age old, hallowed boxing tradition of the next generation feeding upon the last, the future of the sport born amidst the carnivorous destruction of its recent past.