Boxing saw a lot of action this weekend, and some of it has left serious question marks hanging over two of the most marketable names in the game: Sergio Martinez and Amir Khan. Both came out victors in tough fights this weekend, but because both fights were tough observers have been left wondering if both men are not perhaps on a downslide.
Murray Stretches Martinez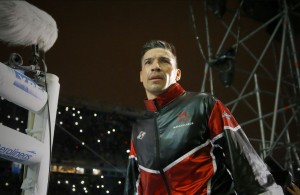 Coming on like the Royal Marines in the Falklands, Britain's Marin Murray gave middleweight kingpin Sergio Martinez his toughest fight since the first outing with Paul Williams in 2009. Murray fought behind a tight, high-guard stance and employed measured aggression, thereby giving Maravilla few chances to use his blinding hand speed to score counters and pick off opportunity shots. He came on strong in the latter half of the fight, dropping Martinez twice, although one of those knockdowns was ruled a slip. The outcome was a close fight, with the across the board rulings for Martinez at 115-112 not beyond reason.
Despite this, many observers, especially from the UK, are declaring Martinez's victory a hometown decision. I think an element of Martinez being "the man" played its part too. However, the larger question is what is Sergio Martinez's status now, and where does he go from here?
The Argentine emerged from the Murray bout with injuries identical to what he suffered fighting Julio Cesar Chavez, Jr. last year: a bad cut over the left eye, a broken left hand, and an injured right knee. The knee will probably require surgery, and take Martinez out of circulation for the rest of the year.
An important thing to remember in asking "is Martinez done?" after the Murray fight is to realize that all of these injuries came on Martinez much earlier against Murray than they did against Chavez. His knee went into the fight as damaged goods, the cut reopened, and he smashed his weakened hand earlier on by nailing Murray on the elbow, a product of the Briton's tight guard.
Given all these factors, it's not a wonder that Murray did so well. Instead, one has to marvel that Martinez was able to hang on against a big, strong, aggressive, highly motivated middleweight despite being at far less than 100%.
Even so, Martinez is 38 years old, and by the time he heals up the man will be 39. There is the very real concern as to whether he can completely heal his wounds at this age, and that's a question no one can answer. What is certain is that Martinez's will to win, hand speed, graceful footwork, and stamina are all intact. If he can heal up, there is no reason to think he doesn't have a good year or two left in him.
Khan Struggles With Diaz
Murray's fellow Briton Amir Khan won his fight, but with far less luster than Murray won in defeat. Khan was floored by Julio Diaz, a lightweight contender who is now a junior welterweight gatekeeper. "King" Khan was also hurt badly by Diaz on three other occasions, and was quite lucky to escape with a narrow unanimous decision.
On the one hand, Khan must be given credit for taking the best that Diaz could throw at him and coming out on his feet. "The Kidd" from Mexico might not be a world beater, but he packs a wallop. Yet it must be said that Diaz is no Lucas Matthysse, and the issue of how Khan can persevere in a division with his fishy chin remains very much an open one. It looks increasingly like Khan can hang with the feather-fisted boxers and the crude brawlers well enough, but put a skilled puncher in there with him and he's done.