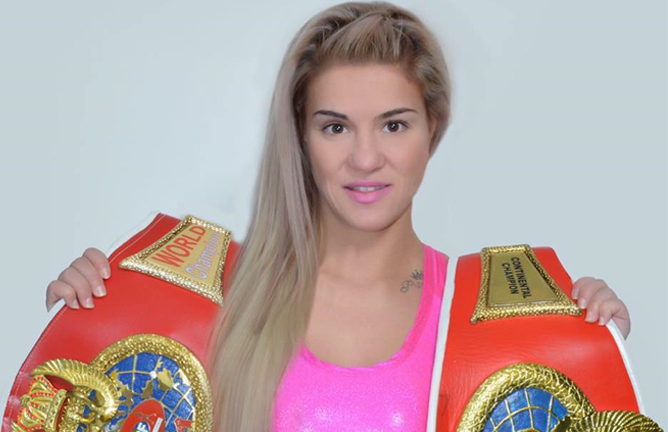 Kallia Kourouni, or better known as 'Pink Tyson', is the WIBF and GBU World Super Featherweight champion. The Greek female boxing sensation is eyeing a shot at UK's WBA Lightweight champion, Katie Taylor.
Tyson, 26, is from Sparta, Greece. She has competed in MMA and Kickboxing, boasting a record of 49 wins from 50 fights. Tyson won the WIBF title in March 2016, when defeating Irma Adler via a unanimous decision and the following year, went on to win the GBU title against Grecia Nova. She has always felt boxing was more to her style due to being able to throw "power punches".
Her father was an amateur boxing champion and Greco-Roman wrestling world champion. Her brothers are also champions in Greco-Roman as well as being involved in amateur boxing.
She made her debut in the UK at the Tolworth Recreation Centre, where she faced Bojana Libiszewska. With both titles on the line, she overcame her opponent, winning on points. Majority of her fights have been in Germany. Now the 26 year old has relocated to the UK and has joined up with trainer, John Edwards. Majority of her fights have been in Germany.
With a great resume of fighting, Tyson Pink has already been matched up to Katie Taylor. And before her last fight against Libiszewska, she was questioned on becoming one of the biggest female boxers alongside the likes of Nicola Adams and of course, Katie Taylor.
"My goal is to change women's boxing and Friday is the beginning of this. With my coach John Edwards we are going to show there is different options in woman boxing. They think women are just tough and strong but we must show we are something different, but we are beautiful, we wear our skirts and we give our power punches, this is something different."
"I've had 50 fights in K1, 49 wins, I've had MMA fights, I want to fight in the UFC in the future, but its one step at a time. Now my first goal is the 24th November and to win my fight and then after that I'll sit with my manager and we'll see what my next goal is, I hope in one year's time I get to fight Katie Taylor."
"I'm Pink Tyson, I'm already a big name, but in the future I have to fight with those girls. I respect them, they are very good boxers, but I'm better. If you want someone to respect you, you must fight for this. I've come to the UK to fight because I want them all to respect me."
When asked about a possible bout with the WBA Lightweight champion, Pink Tyson said, "I am ready. All fighters must believe, I believe in myself very much and I feel ready. Of course Katie Taylor has more experience and technique, she's more clever when she fights, but I have bigger balls! If you tell me tomorrow I have to fight her, I'll fight her. She has five good things, but, I have one thing and that is the most important in boxing."
With more boxing bouts in the UK, Pink Tyson will gain popularity and will hopefully clash with Katie Taylor. Women's boxing could be in for a huge clash if the two put pen to paper.
You can follow Pink Tyson (Kallia Kouroni) on Twitter with all her latest news and as she looks towards her next fight.
Comments
comments