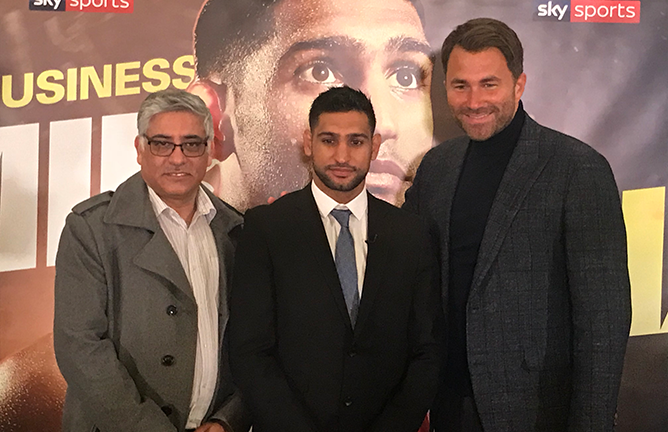 Last week, we saw Amir Khan announce his return to the ring at the Dorchester Hotel, London. Khan alongside his father and Eddie Hearn, confirmed he was signing a surprising three-fight deal with Matchroom Boxing, with many hoping this will boost the chances of a showdown with rival Kell Brook.
We take a look back at his press conference that proboxing-fans.com was able to attend last week. Speaking to Khan and some others close to him, we find out what 2018 could bring for Khan. We also probe that question on everybody's lips – will he face Kell Brook ?
VIDEO: Amir Khan, talks to proboxing-fans about what 2018 is going to be about for him.
Khan didn't reveal any names to us directly about who his opponents would potentially be but stated that "2018 was all about fighting regularly" and confirmed he was looking at 3 fights this year and being in the UK.
In other interviews he conducted we heard him speak about the possibility of bringing Broner or Garcia to the UK and suggested Garcia was a fight he would like again. Garcia would be a tough return fight for Khan, where-as Broner on the other hand could actually prove to be a worthy first opponent for Khan to face.
Broner has the pulling power to still attract a US audience that Khan would want to attract. Khan has said the two are friends so it's a fight that both parties could easily reach an agreement over.
Bradley Skeete is another potential UK based opponent who has previous expressed interest in taking on Khan.
Skeete is the current British Welterweight champion and expressed an interest in Khan in a Boxnation podcast last year.
"He's coming back at 147lbs. That's a fight I'd Love. If he's looking for a fight, then why not me?"
Vijender Singh, the WBO Asia Pacific Super Middleweight Champion, was also quoted last month by The Telegraph India as wanting a battle with Amir Khan. "Let there be a fight. He is an Olympic medal winner and so Am I".
Bar an Indian / Pakistani rivalry which could allow Khan to cash in on his Asia fan base, it wouldn't prove to be the most exciting fight. A fight against Skeete or Broner would probably therefore be more favourable and likely.
In terms of a second opponent, Danny Garcia seems to be a real possibility. Khan expressed wanting to fight Garcia again to the media during the conference.
VIDEO: Spencer Fearon, talks to proboxing-fans about what an ideal 2018 for Amir Khan could look like.
Sky Sports Boxing analyst, Spencer Fearon spoke to us about what he saw as an ideal 2018 for Khan in terms of 3 fights and also put Garcia in the frame as a second fight opponent.
Away from Danny Garcia, potential opponents being suggested to Khan include Keith Thurman, Erol Spence Jr and even Manny Pacquiao. Khan admitted he's excited at the prospect of bringing these names over to the UK. However, the one fight that everyone keeps going back to is with his UK based rival, Kell Brook.
Amir Khan's camp were never going to dismiss the possibility of a fight with Brook at the presser. However, we sensed some reservations when we asked Khan with regards to the potential of the fight happening.
VIDEO: Amir Khan and his Dad both talk with proboxing-fans about possibility of Brook fight and 'weight' concerns.
Amir Khan suggested weight could be the issue when we asked him about a possible fight with Brook. He said that he "doesn't know" if the fight will happen. "He (Brook) 'is at 154", – hinting that he wouldn't be prepared to move up to face him.
Amir Khan's reluctance to move up any more than 147lbs was also confirmed by his father, Shah. He stated that "at this moment in time" Amir wouldn't go above 147lbs.
"When he went up a weight last time which wasn't his weight, when he fought Canelo, just goes to show how big the guys are", Khan's father added.
When speaking to the national papers, Eddie Hearn stated that he "doesn't want Kell to fight below 150lb".
VIDEO: Spencer Fearon, talks to proboxing-fans how Khan and Brook can be a possibility.
Others were more optimistic, Fearon stated to us he felt the fight "has to happen". Both fighters know it would be "good for the sport". He went on to say that he felt the two could potentially meet somewhere in the middle.
Brook has already come out stating he wants the fight to happen this year. The possibility of Brook calling it a day at the end of the year could mean the fight never happens.
"No strawberries… chocolate brownies only." @SpecialKBrook might well be ringside for @amirkingkhan's @MatchroomBoxing debut in Liverpool.

More here: https://t.co/eURUVgGL6J pic.twitter.com/LsK0v6C7cG

— Sky Sports Boxing (@SkySportsBoxing) January 10, 2018
In an exclusive interview with Sky Sports – Brook said
"We need to agree on a fight this year because I don't know if I will be boxing into next year, if I am honest. I really do mean it, I am not getting any younger, I want a great year this year, no messing around, no play-time, I want big fights under my belt."
When it comes to the Brook fight, I still can't help feeling that 'weight' could hinder the chances of these two coming together. That said, I feel it actually all remains in the hands of Eddie Hearn & Amir Khan. Kell Brook has already stated his desire to wanting the fight.
If Hearn wants it to happen, he will know what it will take to influence both fighters into agreeing terms. Weight issues could be resolved by a compromise as Spencer Fearon had suggested to us. Both fighters could agree to meet somewhere in the middle to work around this. If this was to be the case, the ball will be back in Khan's court to agree to the fight.
Leave us a comment below with your thoughts on whether you see weight being an issue and who you see as Khan's potential opponents.