Boxing fans always debate which fighters are the pound for pound best. What about taking a look at who's the single best fighter in each weight class in the sport? In this column, I'm taking a look at each division and giving my take on which fighters I feel are king of their divisions.
Heavyweight Division – over 200 lbs.
Eeny, Meeny, Minny, Moe, in which Klitschko direction should I go? Well, it's little brother, Wladimir Klitchko at the end of the day who I feel is the best heavyweight in the division.  He has beaten most of the top ten heavyweights and will most likely beat the undefeated Alexander Povetkin in his next fight.
Cruiserweight Division – 200 lbs.
Philadelphia born Steve Cunningham tops the Cruiserweight Division in my opinion at the moment.  With only being decisively beaten by Tomasz Adamek, Cunningham has impressive victories over the elite in the division such as Marco Huck, Krzystof Wlodarczyk, Troy Ross, and former WBC champ Wayne "Bigtruck" Braithwaite.
Light Heavyweight Division – 175 lbs.
"Bad" Chad Dawson is the 175 pound king.  He has beaten all of the best in the division and is winning so convincingly that no one wants a piece of him.  With wins over Antonio "Magic Man" Tarver, Tomasz Adamek, and "Road Warrior" Glen Johnson, he finally now has someone who is stepping to the plate to fight him in Jean Pascal in August.
Super Middleweight Division – 168 lbs.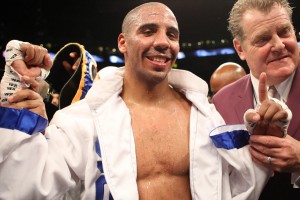 This division is a toss between Lucian Bute and Andre "S.O.G." Ward.  I will give the edge to Andre "S.O.G." Ward because of the success he is having in the Showtime Super Six Tournament with wins over Mikkel Kessler and Allan Green, but I feel that both Lucian Bute and Andre Ward still have some proving to do in the division given their boxing records against some lack luster opposition.
Middleweight Division – 160 lbs.
Paul "The Punisher" Williams is the best in not only this division, but I feel "The Punisher" will be the first fighter ever in my opinion to top two weight classes. With impressive wins over Sergio Martinez and Ronald "Winky" Wright in this division, Williams is a freak of nature who can fight anywhere from 160 to 147 pounds, and with opponents literally diving out of the ring to get away from "The Punisher," hopefully some brave fighter will step up and fight Paul.
Junior Middleweight Division – 154 lbs.
A lot of experts will say the undefeated Ukrainian star Sergei Dzinziruk is sitting on top of the Junior Middleweight Division, but I feel that with the versatility of  "The Punisher" Paul Williams, he can beat anyone from 160 to 147 pounds, so my number one in this division is also Paul "The Punisher" Williams.
Welterweight Division – 147 lbs.
Is there any question?  Floyd Mayweather, Jr. is without a doubt the best at 147.  With wins over Zab Judah, Ricky Hatton, Juan Manuel Marquez, and Shane Mosley, what will be the excuse when he finally meets Manny Pacquiao and destroys him? Oh yeah, he will be too small as well.  No question Floyd is the best fighter at 147 pounds and is also the number one Pound for Pound King in the sport of boxing.
Junior Welterweight Division – 140 lbs.
St. Louis native, Devon Alexander in my opinion is the best at 140 pounds.  He has an outstanding victory over Juan Urango, and has the opportunity to further cement himself in the division when he faces off against Andreas Kotelnik in August, en route to a possible showdown with the elites in the division such as Timothy Bradley and Amir Khan.
Lightweight Division – 135 lbs.
The great Juan Manuel Marquez is still the reigning Lightweight Champ and is still considered the best fighter at 135 pounds, with wins over Juan Diaz, and Joel Casamayor. Marquez is one the best fighters of this era, and he will definitely try to prove to be great once again when he squares off against Juan Diaz in a rematch which could be one of the best fights of the year.
Junior Lightweight Division – 130 lbs.
In my view, the Japan native Takashi Uchiyama is the front runner as the best at 130 pounds.  He has wins over Juan Carlos Salgado and Angel Granados and hopefully in the future, he will fight the undefeated Puerto Rican star Roman Martinez.  Let's see what happens.
Featherweight Division – 126 lbs.
Without question, Chris John is the best fighter in this division at the moment, but Yuriorkis Gamboa is breathing up the rear.  There are a lot of great fighters that John can fight in the near future, but first, John must blow away Fernando Saucedo in two weeks before he can prove himself against some of the other top undefeated fighters in the division.
Junior Featherweight Division – 122 lbs.
This division is one of those toss up divisions where the pound for pound crown can change hands from week to week.  With that said, right now I feel that the undefeated Puerto Rican native Wilfredo Vasquez, Jr. is the best in this division. Vasquez is coming off an impressive tenth round knockout victory over Zsolt Bedak and is definitively on the rise in the division.
Bantamweight Division – 118 lbs.
Again, it's my opinion, and I feel that the top dog in this division is Yonnhy Perez. I just feel that even though he is only 20 and 0 with 1 draw, he a little more battle tested than the rest in the division, with fighting to a draw with one of the best in the division, Abner Mares, and a win over Joseph Agbeko.  Perez has the potential to be the best in this division for a long time.
Junior Bantamweight Division – 115 lbs.
"The Raging Bull" Vic Darchinyan is the reigning WBA and WBC Junior Bantamweight champion with wins over world class fighters such as Jorge Arce, Tomas Rojas, and Dimitri Kirilov. His next fight is unknown, but whether he fights at Bantamweight or Junior Bantamweight in his next fight, he will still be considered by most the undisputed king of the Junior Bantamweight Division.
Flyweight Division – 112 lbs.
The crafty veteran Pongsaklek Wonjongkam is my pick as the number one guy in the Flyweight Division.  With little to no competition in this division, Wonjongkam knocked out his only competition back in March with a sensational victory over the up and coming, then undefeated, Koki Kameda.  This win solidifies Wonjongkam is one of the best little men of this era.
Junior Flyweight Division – 108 lbs.
Puerto Rican native Ivan "Iron Boy" Calderon is the best by a long shot in this division, and maybe he can move up and challenge the 112 pound king Pongsaklek Wonjongkam in the future for Flyweight supremacy.  The "Iron Boy" has wins over Rodel Mayol, Hugo Fidel Cazares, and Jesus Iribe. I would like to see him in a showdown with the hard-punching Giovanni Segura to straighten out this desolate division, and to leave no doubt that he is the best in the Junior Flyweight Division.
So there you have it.  This is my take on who I feel right now are the best fighters in their divisions at this moment, but as we all know in boxing, a knockout or an upset can change the landscape of boxing in a New York minute.