Haye Might Have the Perfect Ambush Style to Defeat the Robotic Klitschko:
David Haye is about a 2-1 underdog in Saturday's fight against Heavyweight Champion Wladimir Klitschko. Often times, things snap into perspective the closer we get to a fight. A few weeks ago, I was a little skeptical about Haye's chances, but I'm starting to look at it in a new light.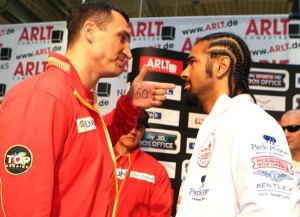 I've been thinking of Haye's style and trying to look at it in a different way. I was thinking that Haye was merely a harder-punching and more dangerous challenger than Klitschko is used to facing, that he would try to forge through Klitschko's gigantic reach and unload his bombs. The question seemed to be whether or not he could absorb Klitschko's shots while trying to land his "Hayemakers."
The more I think about it, the more I begin to look at Haye's style a bit differently, which is totally outside the box. He is more of an opportunistic fighter—patiently waiting for a spot to unload his long-reaching shots. While waiting, he has no pangs of guilt about staying away from his opponent. Even the 7-foot Valuev usually found Haye outside of his reach. When Valuev would bobble, lose his balance, or otherwise find himself in a compromising position, Haye would unload a shot or two.
Haye doesn't really jab or exchange. His whole game is setting his man up for the ambush. The other stuff isn't worth his time. He wants to find a spot to unload the fight-ending bomb. It's really an unusual style, especially at heavyweight. Klitschko has become accustomed to fighting guys with a more discernible style. Perhaps Haye's more bizarre approach will throw off the programmed Ukrainian.
Klitschko depends on a certain amount of cooperation from his opponents. One foe after the next has dutifully stood at the end of Wladimir's reach, with varying degrees of urgency to force the issue. It's fed right into Wladimir's hands. I don't expect Haye to make it that easy on Klitschko. He will be moving away from Klitschko, which might force the champion to move forward more than he desires.
It's precisely this unconventional style that might be the perfect recipe to unseat the longtime champion. Much of the criticism levied by Haye on his foe during the build-up has been unwarranted, but one thing he said is true—Wladimir is robotic. It's been highly effective, but he's locked into one style. He jabs, keeps his distance, looks to endlessly soften his man up, and then lowers the boom. If Haye throws a wrench into the plan, what is Wladimir going to do?
Wladimir isn't a fighter per se. He's a technician. He's one of the only Heavyweight Champions whose whole thrust in a bout is to not fight. He wants to nullify—not engage in battle. It has worked wonderfully, but against a bomber like Haye that deficit in his fighting spirit could have a negative impact. Wladimir is lost in heated exchanges. The only opponents who have managed to turn Klitschko bouts into actual fights have beaten him—with the exception of Samuel Peter in their first fight.
Klitschko is a master at what he does, but has shown a propensity to fall apart when things don't go his way. Trainer Emmanuel Steward has been an expert in maximizing the upside of Wladimir. He has managed to showcase his strengths, while camouflaging his weaknesses. But those weaknesses are there—it's just that no recent opponent has possessed the wherewithal to exploit them.
Will Haye become that guy? Stylistically, I think he has the best chance of any recent Klitschko opponent. But he has issues too. Despite his trash talking, which would give you the vibe that he's a crazed killer in the ring, his workload can be alarmingly low. Against Valuev, he threw 12 punches a round and that against a fighter with about 5% of Klitschko's talent and menace. Anything resembling that will not get the job done against Klitschko.
Is Haye aggressive enough to make this work? Like Klitschko, he doesn't seem too keen on exchanging. For the man who will need to be the aggressor, that's somewhat of an Achilles heel. He's looking to hit his opponent, not trade shots. He might end up being a little too selective against the reigning champion. He can't afford to just hang back and wait for the perfect opportunity.
Then there's a part of me which thinks that Haye is onto something. It is not the most thrilling style to watch, but it just might be unusual enough to get the job done. By keeping his distance while occasionally firing dangerous shots, Haye will avoid getting softened up, allowing him to be a threat for as long as he's standing. It could be one of those fights where Haye does close to nothing round after round—only to dart in and catch Klitschko with something ambush-style. And he won't need to get inside to do it. The Englishman carries a lot of power at the end of his shots, enabling him to land big punches from seemingly halfway across the ring.
On one hand, Haye's trash-talking could awaken the sleeping giant. But it may also irritate Klitschko into becoming more of a forward-moving and aggressive fighter than what is his wont. This could, in theory, make Haye's job easier. For his ambush style to work well, Haye needs a guy moving towards him at least a little bit.
Look at Klitschko as a blackjack dealer. All his challengers plop down at the table and play every hand with him. It's been a long time since anyone has beaten "the house." Haye is not that type of player. He's going to sit back, only to jump in when he feels the time is right. He might only play 10 hands an hour.
It won't be close to easy. If Klitschko starts off landing the jab, this could get ugly. But if Haye is able to employ his opportunistic boxing style, while avoiding the champion's punches for the most part, he could have Klitschko right where he wants him. It will take discipline, gumption, and he might need to absorb some heavy shots along the way. Stylistically, I'd give Haye little chance to beat older brother Vitali, but against the younger Klitschko, he has a chance to make it work. We'll see if he can pull it off this weekend.