This past Saturday night at the Madison Square Garden in New York City, Roman "Chocolatito" Gonzalez and Brian "Hawaiian Punch" Viloria arguably stole the HBO Pay-Per-View event with their competitive fight. Gonzalez defended his flyweight title against a well prepared and determined Viloria, and through his dominant showing, made the case that he should be the number 1 pound for pound fighter in the world.
Gonzalez's Rout of Viloria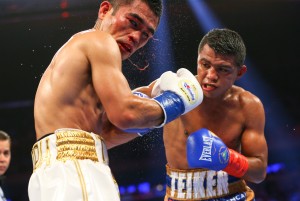 Viloria started the bout well by imposing his hand speed and firing off punches from angles; Gonzalez remained composed, analyzing and measuring distance with his jab as well as measuring what Viloria had to bring to the fight. Viloria's activity won him the first round, but by the third, Gonzalez delivered a short right hand to drop Viloria for the first time in his career. Utter one-sided domination began.
Viloria, to his credit, beat the count and never showed signs of giving up. Gonzalez started to open up by firing off wicked combinations and the tide turned for good. Uppercuts, hooks to the body and head, and straight punches, shots from all angles, five, six, seven punch combinations.
The ninth round proved to be the most dramatic as Viloria landed a left hook to Gonzalez's body that made Gonzalez tuck his elbows in to his sides and use his legs to defend himself from Viloria's opportunity. Gonzalez recovered well from the punch and backed up Viloria with impressive combinations, finally forcing the referee to wave off the fight in his favor.
Gonzalez is not only on the way to getting his much-deserved and well overdue star status after his performance against Viloria, on an HBO pay-per-view showcase, but he is also on his way to possibly breaking the Floyd Mayweather and Rocky Marciano undefeated 49-0 record. Any diehard boxing fan would enjoy watching Gonzalez fight. Now, casual boxing fans will get to know and appreciate the fighter who should be the new pound for pound best fighter in the world.
Chocolatito Should Be #1
After his victory over David Lemeiux, Gennady Golovkin can make his own case as the top pound for pound fighter, however, Gonzalez' world title claims and defenses in three weight classes make the argument that he claims the rank. Gonzalez has defeated the best opposition available, and he does so in dominant fashion.
Chocolatito has reigned from Strawweight to Light Flyweight and now Flyweight. Golovkin may be the kingpin at Middleweight, but he has yet to conquer multiple weight divisions. Gonzalez's resume simply surpasses Golovkin's, but prior to the last few months, has lacked the same rising star status that Golovkin has, largely due to the differences in weight and the media coverage.
Not only did he remain undefeated but the show he put on this past Saturday against a high-tier opponent in Brian Viloria should enable him to capture the pound for pound crown. Alas, at ProBoxing-Fans.com, we don't believe Floyd Mayweather's claim that he's retiring. Not even close.
Therefore, Mayweather retains his #1 ranking, with Gonzalez coming in at #2, and Golovkin at #3.