Paul "The Punisher" Williams begins his comeback on July 9th when he meets storied Cuban prospect Erislandry Lara in the Boardwalk Hall in Atlantic City, New Jersey. This fight pits Williams, a proven commodity despite a recent loss and former P4P entrant, against a hungry fighter from the legendary Cuban school, the last holdout of Communist boxing.

Erislandy Lara (15-0-1, 10 KOs)
5'9″ tall, southpaw, 28 years old
Cuban
Unless you are a die-hard boxing fan or follow the international amateur scene, you've probably never heard of Erislandy Lara. After finally reaching the Cuban National Team in his early 20s, Lara won the 2005 World Amateur Title as a welterweight, and then took a silver at the World Cup later that year. In 2006, he went to the Caribbean and Central American Games, and won gold there. His amateur career with Cuba came to an end when Lara tried to defect in 2007 at the Pan-American Games. He and a teammate were subsequently arrested by the Brazilian authorities, and rather than face criminal charges agreed to be deported back to Cuba. Lara then fled Cuba for Mexico by speedboat, and ultimately landed in Miami.
Unfortunately, the story of his two defections are more interesting than his pro career, as the once-touted Cuban prospect has become somewhat tarnished. He stumbled badly in his last fight with journeyman Carlos Molina, and was lucky to escape with a Majority Draw. In that fight, Lara looked to land the one big punch and forgot about his trademark combos. Lara has also not reformed since his 2007 run in with the law in Brazil, since he was busted for battery in Miami as recently as May.
Paul Williams (39-2, 27 KOs)
6'1″ tall, 82″ reach, southpaw, 29 years old
American
Former two-time welterweight champion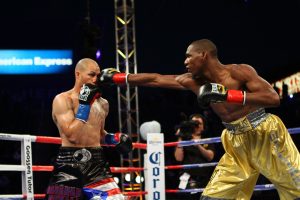 Paul Williams is a well-known figure among boxing fans. Although his stunning 2nd Round KO defeat at the hands of Sergio Martinez is what stands out most in the minds of boxing fans, "The Punisher" owns a narrow win over Martinez, as well as wins over Kermit Cintron, Verno Phillips, Carlos Quintana and Antonio Margarito, as well as wins over the shopworn versions of Winky Wright and Sharmba Mitchell. It is far too easy to read too much into Martinez's 2nd Round KO, for while I think Martinez was set to win that fight, that punch could have landed in the 6th Round, 11th Round or never. Williams is still a tough customer and making the first step on his comeback.
Williams vs. Lara Preview and Analysis
Lara is a well-schooled boxer-puncher with a strong combination attack, and while he clearly has character issues and the consequent baggage that goes with it, I have no doubt he will show up in Atlantic City well-prepared and hungry. Despite the recent arrest, by fight time Lara should have had a two-month uninterrupted training period. The problem is that 28 year old professional boxers who get arrested for street scuffles have the kind of disposition that comes unglued when faced with serious pressure. I've seen it time and time again, and taking on Paul Williams is a big step up. One way or another, we'll see how well Lara's head is screwed on.
Williams, on the other hand, is coming back from a crushing knockout defeat. That is a hard blow for any fighter to overcome. Also, knockouts like that sometimes leave a fighter's "button" tender. Lara is just the sort of fighter to get in there and test William's jaw.
However, Lara is also the kind of fighter that plays into William's rangy, punches-in-bunches style. Williams has seen everything Lara brings to the table, only better. I think Williams will be tentative at first, and that will give Lara his best moments. After the early rounds, though, Williams will assert himself, and Lara will have no answers for dozens of quick, hard punches thrown by a mobile opponent from far outside his reach. At that point, Lara will come unglued and stop trying to win, leading to a lopsided points win for "The Punisher."
Williams vs. Lara Prediction
Williams UD12