-ProBoxing-Fans.com & BoxingDepot.com Team up To Give a Free Pair of Protex2 Everlast Training Gloves Away-
Do you want to win a free pair of Protex2 Training Gloves by Everlast? ProBoxing-Fans.com and our newest sponsor, BoxingDepot.com, are making it real easy for you as part of our special October contest and promotion. In about 30 seconds you can be entered into a drawing to win a free pair of Everlast boxing gloves. See below for all of the giveaway details!
As of the moment we're putting this contest together, ProBoxing-Fans.com has exactly 250 fans on Facebook. That's great, but we want more of you boxing fans out there to follow us, so we can help everyone get all of our columns, breaking news reports, rankings, predictions and more. So it's easy, we have a goal of reaching 500 fans on Facebook by the end of October.
To help get the ball rolling, we'll be giving one of our fans on Facebook a chance to win these high quality boxing gloves from Everlast! All you have to do to enter our contest is:
b) Invite your friends to do the same & get us to 500 fans

c) Comment on our wall or any of our links, posts or updates that you want to win the contest! That's it!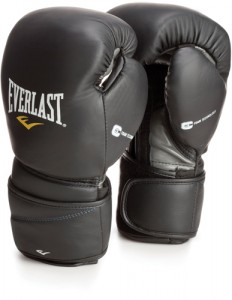 The contest is open both new followers, and existing followers who invite their friends to join up too. So help spread the word about ProBoxing-Fans.com, and you'll have a chance to be handsomely rewarded.
These Protex2 Training Gloves from Everlast are awesome, and are loaded with features to help you make the most out of your training session. Even if you don't train yourself, they would make for a perfect gift, just in time for the holidays! Here are some of the features:
EverDri Liner
Protex Stabilization system keeps hand in correct ergonomic position
Antimicrobial lining
EverCool ventilation keeps hands cool
Great for professional and beginner use
Also available in women's Sizes
Normally retail for $50 or more
Available in sizes and weights ranging from small to XL and 8 oz to 16 oz – contest winner picks his size/weight choice
So what are you waiting for? Follow us on Facebook, tell your friends, help us to reach 500 fans by the end of October, and win a free pair of boxing gloves!
Contest winner will be announced on November 1st!