'This was a fighter that the world was not used to. Articulate, to himself, contemplative, not getting with the law, a chess player, a thinker.' (Dr Dre). However, Lennox Claudius Lewis was not always the mild-mannered, pugilist specialist we all came to love.
Born in West Ham, East End, London on 2 September 1965, Lewis was far from a silver spoon baby. His mother Violet, one of 12 children, came over to the UK from Jamaica, as part of the Windrush generation, working as a nurse, in search of a better quality of life.
With Lewis' father absent from his life, at the age of seven his mother went to Canada to try and prepare the foundations for a home  for young Lennox. Left behind with a certain Miss Baker, who was far from hospitable, Lewis, by default went through a number of boarding schools and homing facilities, constantly getting in trouble for fighting.
His arrival at a school for troubled youngsters was his last stop in the UK before his mother sent for him to join her in Canada.
Inevitably, old habits died hard and Lennox continued to get in trouble.
As with many boxing greats from bygone generations, the troubled youths would be pointed in the direction of the police boxing club to see if the discipline of boxing could hone the aggression and strength of the individual, combined with the skill of the art of the sport to possibly make the individual a better person. This turned out to be Lennox Lewis's springboard to life, under the strict tutelage of Arnie Boehm.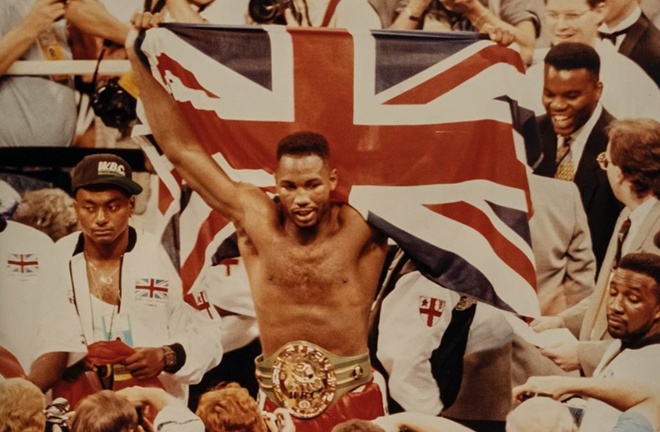 Boehm said of Lewis, "The most important thing I noticed is that he listened.
"He would look at you and hang on to every word that you said."
Not only did he become that elusive father figure, he soon realised he was working with a young talent with the potential for greatness.
Along his amateur route, Lewis sparred with another hopeful by the name of Michael Gerard Tyson. The documentary not only provides sparring footage, but comments from their respective trainers, which is the kind of dark corners you would hope a film such as this could shine a torch into.
Two individuals destined for greatness who would take very different paths moving forward from their teenage years.
Despite their best efforts, neither made the cut for their respective 1984 Olympic squads.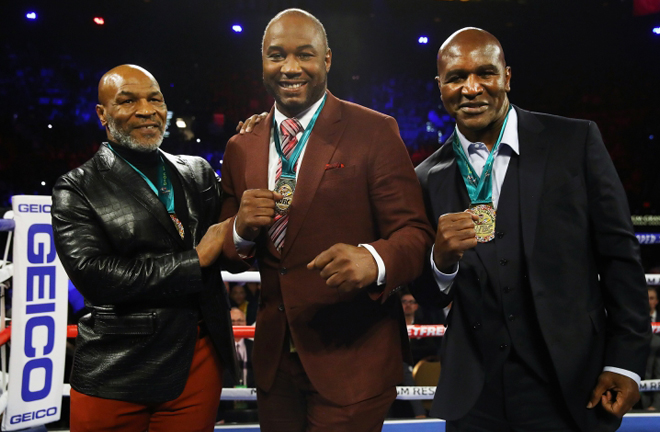 Tyson chose to turn pro soon after the 1984 Olympics, making history as the youngest ever heavyweight world champion, whilst Lewis made his own mark in fistic history by winning the gold medal, beating future world champion, Riddick Bowe in the final.
A fight which unfortunately never replayed in the pro ranks, despite surfing very close on a few occasions.
The Jamaican rooted Brit, who won gold for Canada was the red Maple Leaf's first gold medal in 56 years. He was now hot property and everybody wanted a piece of him.
Launching himself under the shark-infested promotional spotlight which consisted of some infamous characters, such as Don King, The Duvas and Mickey Duff, in the end, it was Frank Maloney (now Kellie), who Lewis chose to guide his future successes.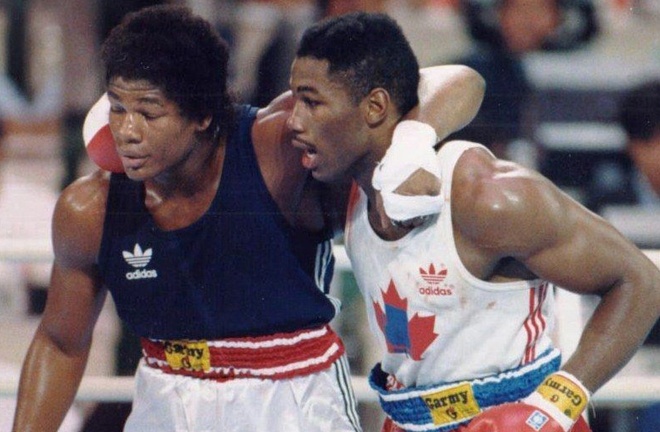 Moving back to his birthplace in the UK, Lewis began his quest for greatness in the professional ranks. After an explosive second round debut knockout of Al Malcolm on 27 June 1989, within 16 months he created a destructive trail of 13-0.
On 31 October 1990, he took on the defending heavyweight European champion, Jean-Maurice Chanet, stopping his French foe in the sixth session.
Over the next two-and-a-half-years, Lewis added the British and Commonwealth straps to his collection and disposed of some very respectable scalps, including Mike Weaver, Tyrell Biggs and Donovan Ruddock.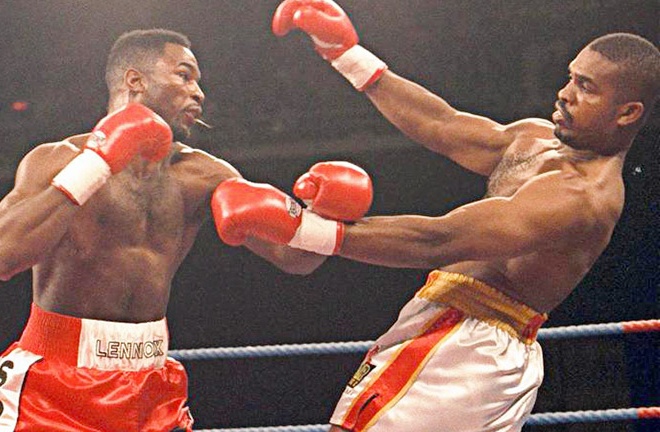 The latter two made a substantial statement in the heavyweight ranks, as he retired Biggs and Ruddock in a faster and far more destructive manner than Mike Tyson had done previously.
The Biggs victory was atonement. Biggs had beaten Lewis in 1984, shattering his dreams of going to the Los Angeles Olympics.
By beating the 1984 gold Olympic gold medalist in 1991, Lewis had made a definitive statement of how far they had come since their amateur encounter.
Eleven months later, Lewis knocked out Ruddock in two rounds and it was as if the heavyweight division had been put on notice. You had two options – step aside or be run over.
At the time, Riddick Bowe held all three titles and was on a collision course to fight the man who forced him into silver at the 1988 Olympics.
Unfortunately, it became the fight that never happened and the film takes you through the bitter rivalry which was palpable from a mile away. Bowe publicly disposed of the WBC belt in a trash can and Lewis was awarded the title by default, which left Lewis needing to prove his worth.
As the first British heavyweight champion in over 100 years (since Bob Fitzsimmons) Lewis took on Don King's fighter, Tony Tucker (48-1 at the time, with the loss coming at the hands of Mike Tyson), outboxing Tucker over 12 rounds, including two knockdowns.
He had now earned his stripes and was relishing to take on all-comers, which provided some great boxing moments. Let's not forget the electrifying fight against Frank Bruno.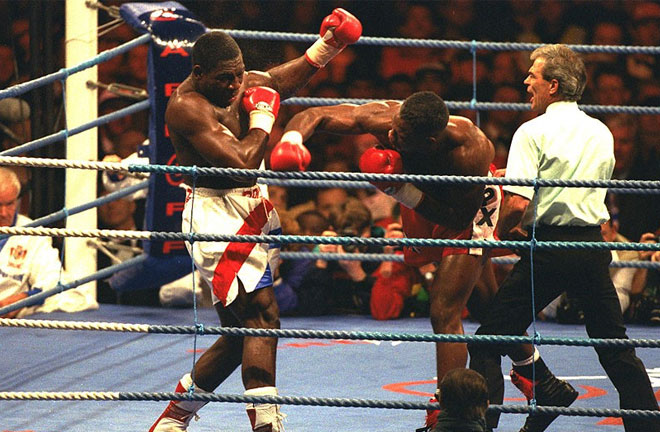 Lewis was behind on the scorecards and was visibly wobbled by big Frank's sledgehammer right hand, when he threw a left hook to Bruno's head that sealed the fate of the fight.
However – as with many great fighters, their losses defined their greatness and this certainly applied to Lewis.
On 24 September 1994, Lewis endured his first loss against Chicagoan, Oliver McCall (another Don King fighter), trained by legendary trainer, the late, great Emanuel Steward, a man Lewis was destined to cross paths with in the not too distant future.
Lewis was knocked down in the second round with a short right counter, then had the fight controversially waved off in front of him by the referee, whilst seemingly compos mentis.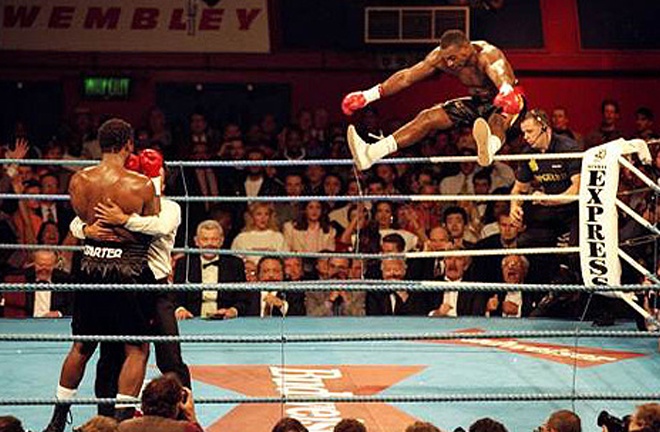 Shortly after, now under the strict tutelage of Manny Steward, Lewis steamrolled his next five opponents, including Tommy Morrison and Ray Mercer before exacting revenge on McCall on 7 February 1997.
Lewis looked like he was going to stop McCall, but the result of TKO in the fifth round doesn't reflect the bizarre ending of McCall, walking away mid-fight, whilst crying.
The balance of Lewis's career from this point forth would only be world title contests. In the meantime, Mike Tyson had been released from prison, had beaten Frank Bruno for the WBC strap and was on a slow collision course to meet Lewis.
While Lewis was not only growing as a fighter and a champion, become wiser and stronger, Tyson was beaten by Holyfield in a shock upset and bit a chunk of The Real Deal's ear off in the rematch. Polar opposite trajectories is a mild way to describe the dichotomy between Lewis and Tyson by this stage. Holyfield was now the man to beat.
On 13 March 1999, Lewis landed almost three times the number of punches compared to Holyfield and certainly landed the more telling shots.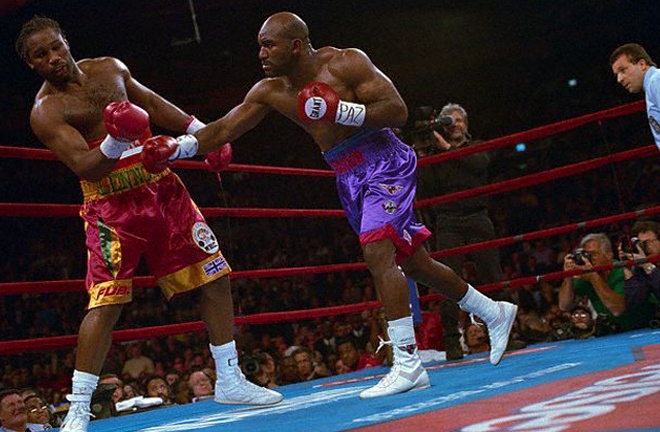 However, after a few minutes of deliberation from the judges which seemed like certain victory for Lewis, the contest was declared a draw. Highway robbery was one of the terms accurately used by the pundits.
The rematch, eight months later was sweet for Lewis, to say the least. The second fight was closer than the first, however, the judges scored it correctly this time and Lewis was now the undisputed champion of the world.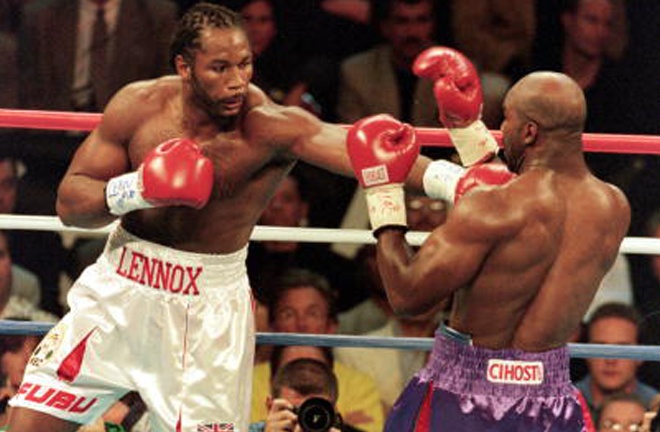 After defending his three straps three times, Lewis, ill-prepared, took on wildcard Hasim Rahman in South Africa.
While the underdog was training at altitude several weeks in advance of the bout, Lewis was in Vegas filming Ocean's 11 and on arrival in South Africa, only a short time before the fight, was touring the country, making countless public appearances.
The ill preparations equated in a devastating overhand right knockout by Rahman in the fifth round. The referee wasn't even needed for the count.
Lennox being Lennox did what he did best – he came back with a vengeance.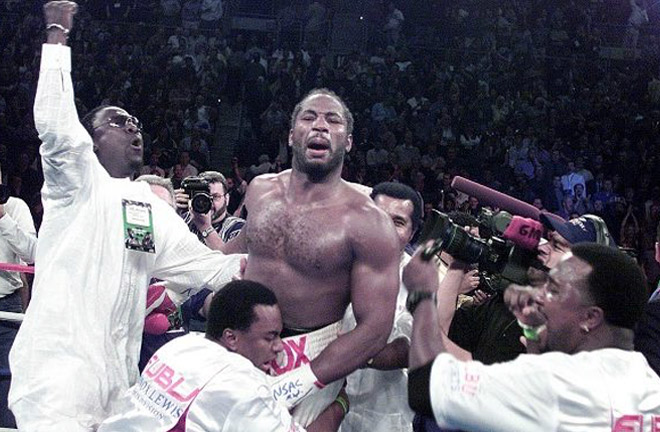 Seven months later, at the Mandalay Bay, Las Vegas, a brief moment after throwing a three quarter length left hook to Rahman's head in the fourth session, Lewis threw an overhand right with so much weight that it split Rahman's cheekbone. He'd avenged his second and last loss. Now it was time for Tyson.
The famous comment from Tyson. 'Lennox Lewis, I'm coming for you…..I'm the best ever. I'm ferocious, I want your heart, I want to eat your (at that point, non-existent) children.'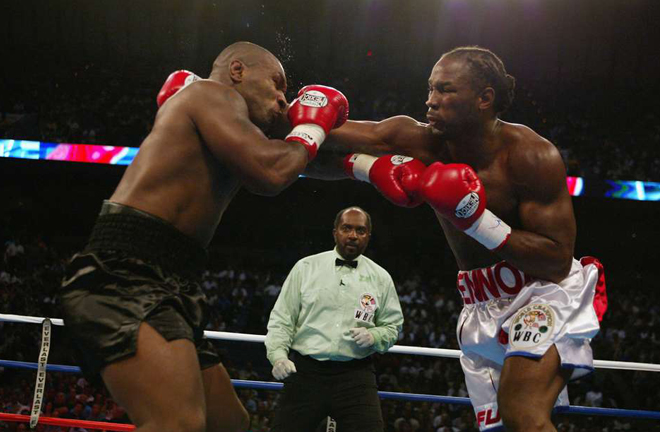 Lewis composed response was, 'Tell Mike Tyson to either put up or shut up. This is the art of the sweet science, this is not no street fighting.'
The stage was set for 8 June 2002 at The Pyramid, Memphis, Tennessee. The tension from the day the fight was announced was uncomfortable for everyone involved.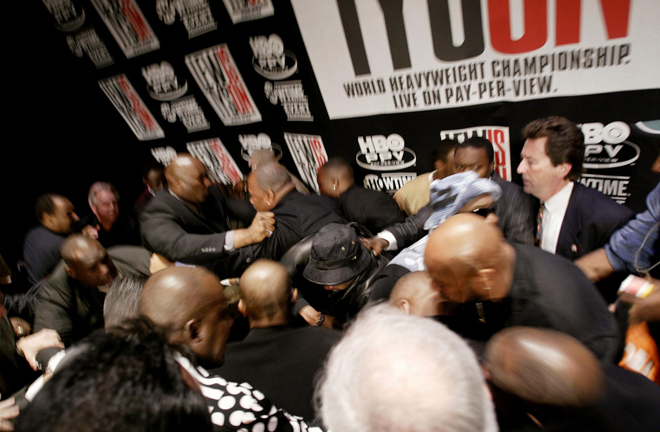 From the infamous brawl and biting at the press conference, through to the security guard shielded divide in the middle of the ring come fight night.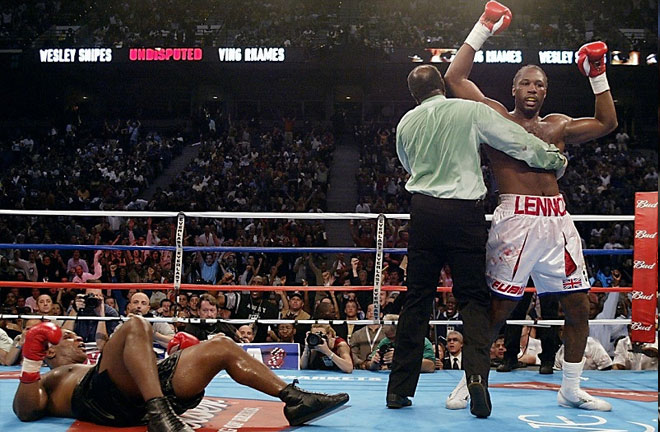 Widely ahead on the scorecards, Lewis knocked Tyson out in the eighth round. Despite a jagged relationship between the two in the build-up to the contest, many years later, the pair bonded a close friendship. The film provides lovely footage of these moments.
After stopping Ukrainian colossus Vitali Klitschko on 21 June 2003, Lewis gracefully bowed out from professional boxing. One of a very small elite group of heavyweight champions to retire whilst still champion.
I'd highly recommend watching Lennox: The Untold Story. You'll be able to see first hand the people who supported, developed and helped Lewis along his journey of heavyweight stardom.
The friends, the family, the trainers and the businessmen. With narration from Dr Dre, appearances from Lewis's brother, wife, mother, his children and Kellie Maloney, to name a few, what's not to like? Also, the outtakes at the end make for fun watching, including a great sketch with Mike Tyson and Snoop Dogg.
The Lennox Lewis script provides the perfect contradiction of Reggae calm alongside one of heavyweight boxing's most destructive rulers of the crown.
Watching this well constructed documentary about an iconic undisputed champion, proud husband and father, you'll feel close to the pugilist specialist. A man who possibly encapsulates most perfect definition of the epitome of a world champion.
Written by Paul Zanon (Twitter: @PaulZanon1972)
ON DIGITAL PLATFORMS FROM 13 NOVEMBER
OWN ON DVD FROM 16 NOVEMBER – https://www.amazon.co.uk/Lennox-Untold-Story-Dr-Dre/dp/B08JZFPPZS
For More information about the release of Lennox: The Untold Story head to www.lennox.film
For your chance to Win a copy of Lennox: The Untold Story enter your details in our competition below. Competition closes at 11AM on 19 November 2020.
Please note: this competition is only open to UK based readers. Winner will be notified via email after the competition has closed on Thursday 19th November 2020 & will be drawn at random.
---
This competition has finished.
---