Meet Undefeated Cruiserweight Sensation Santander "Demolition Man" Silgado
Undefeated Colombian cruiserweight prospect Santander "Demolition Man" Silgado (20-0, 18 KOs) is the best boxer in the world few American boxing fans have heard of, at least until March 24 when he'll be showcased on the off-NBC Sports Network portion of the Zab Judah–Vernon Paris card at Aviator Sports Complex in Brooklyn.
Silgado, now living in Brooklyn, will be fighting in the United States for only the second time in an eight-round bout against veteran Willie Herring (13-9-3, 4 KOs). The 26-year-old Colombian power puncher stopped Glen Williams by second-round TKO last December in a New Jersey club show.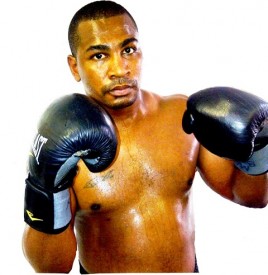 Silgado-Herring will be taped live and aired the following day on SportsNet New York ("SNY").
"Right now," Silgado's promoter Rob Diaz (Havoc Boxing Promotions) said, "Santander is the best kept secret in boxing, but people will know about him very soon. March 24th will be his first real fight in the United States on a grand scale because he's fighting on the big Main Events-card that's getting a lot of coverage. People will see that Santander is the real deal. He's already starting to shake-up the cruiserweight division and a few top cruiserweights have turned down fights against him. Sooner or later, though, those guys will have to fight him."
A seven-time National amateur champion in his native Colombia, Santander had nearly 200 amateur fights, and started boxing at the age of eight when after some fellow schoolmates asked him to put on gloves. He immediately fell in love with the sweet science but he also has boxing in his blood as the nephew of a well-known Colombian fighter.
"I'm grateful for this opportunity on March 24th and enthusiastic about the fight because I'll be able to show my boxing skills to the world," Silgado recently commented during training camp. "I came to America so my boxing career can help me provide security for my family – wife, two children, parents and brother – who live in Colombia. This year is all about me getting in position for a world-title shot."
Despite living up to his "Demolition Man" nickname, knocking out 18 of 20 pro opponents, Santander understands that he won't be able to put all of his opponents to sleep, especially as he climbs the rating's ladder and his competition gets stiffer. "My boxing skills are what will take me to a world title," he noted. "If knockouts come, great, but I'm not going into a fight looking for a knockout."
Silgado recently cracked the world ratings, presently ranked No. 13 by the World Boxing Association ("WBA"), and No. 15 by the World Boxing Council ("WBC").
His head trainer, Francisco Guzman Sr., has trained world champions such as Hector Acero-Sanchez and Joan Guzman, as well as the late Arturo Gatti during the early years of his pro career. Acero-Sanchez, a Dominican who fought out of the Bronx, was a WBC super bantamweight champion.
"Santander reminds me of Sanchez because he's just as hungry to learn," Guzman added. "They both go to the gym to work hard and learn.