Panamanian Bernardo Checa says he will give Martin Rogan the perfect tactics to bring Tyson Fury's career to a grinding halt when the two heavyweights battle it out on April 14 at Belfast's Odyssey Arena on the main event of Hennessy Sports "Unfinished Business" show.
Checa was the head coach for legendary Irish promoter Barney Eastwood when he was churning out numerous champions from his Belfast gym in the 1980s and 1990s, including former World featherweight champion Paul Hodkinson, former World welterweight champion Crisanto Espana and World flyweight champion Dave McAuley, a commentator for Channel 5 the broadcaster for Fury-Rogan.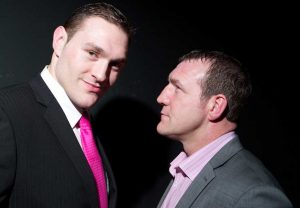 The Panamanian has also trained Roberto Duran and currently works with WBA interim super-middleweight champion Brian Magee in Belfast and now he wants to add Rogan to his list of achievements when the former Commonwealth heavyweight champion meets unbeaten World number six Fury 100 years on from when the Belfast-built iconic ship the Titanic sunk in the Atlantic.
"The fight is one the same night that the Titanic sunk 100 years ago and I think that Rogie will be the iceberg who will sink the big ship Fury who everyone thinks cannot be stopped," said Checa when speaking to the Sunday Life newspaper recently.
"I have watched Fury quite a few times and he has been hurt in many fights, he has been put down and there is a pattern, there is a reason and I plan to exploit those weaknesses.
"The key for Rogie is to be super fit and I will have him super fit. He has quick hands for a big man and we will have him ready to do what he has to in order to win.
"This is a massive opportunity for Rogie, all the pressure is on Fury because most people expect him to win. Rogie has nothing to lose so there is no pressure and he is going to have great support.
"Rogie is the underdog and I like this kind of challenge. Rogie beating Fury would be one of my biggest achievements and you know with heavyweights you just have to hit the right spot and the man will go down. They can all hit very, very hard.
"We know that Fury has a good jab and we have to neutralise that to have a chance of winning but he is also slow and that is in Rogie's favour.
"I have heard people say that he has been out for a long time but I remember when Dave McAuley won the World title and he had been out for 13 months. Duke McKenzie's people thought they were getting Dave at the right time but for them it was the wrong time.
"Rogan has had very few hard fights and he'll be fresh and super fit and his speed can make the difference."