In boxing circles, Wladimir Klitschko's name is often synonymous with a good snooze. While he stands as the clear top dog of the heavyweight division, Klitschko the Younger has a robotic, control-and-avoid action style that scores points and wins fights, but fails to move most fight fans to cheering adulation.
Even so, it would be unfair to say Dr. Steelhammer is boring. Prior to the adoption of his risk-free approach, Wladimir Klitschko used his athleticism, size and power to force the action, producing serious fireworks. And before he perfected that risk-free style, some fighters had the stuff to take the fight to the big Ukrainian, also producing exciting fights. All you need to do to find some Klitschko excitement is to rewind the clock a few years, and viola! You find all the fodder you need for a Top 5 list.
Top 5 Most Exciting Fights for Wladimir Klitschko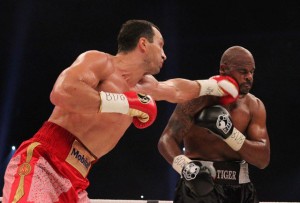 1. Wladimir Klitschko vs. Samuel Peter I: The sternest test Klitschko the Younger ever faced in his career produced his most exciting bout. It is easy to forget that in 2005, Sam Peter was a 24-0, highly motivated banger of promise. Even though Wladimir handily out-boxed Peter, and won almost every round he wasn't knocked down, Peter's aggression and power strongly suggested one punch could end the fight at any time, and it almost did. The Nigerian Nightmare connected and sent the Ukrainian to the canvas three times during the fight, and frankly, given Klitschko's chinny reputation, we never knew if any of those knockdowns might not be a knockout!
2. Corrie Sanders vs. Wladimir Klitschko: This fight was short-but-brilliant. Sanders was a southpaw with quick hands and explosive power, and he was snapping hard shots at the bigger Klitschko from the opening bell. Even so, you didn't quite expect to see the big Ukrainian flat on his back starting in the 1st Round, let alone stopped in the 2nd. Sanders was electric in producing a shocking upset, and outcome gave Klitschko his "chinny" reputation.

3. Wladimir Klitschko vs. Tony Thompson I: There is something magnetic about watching two gigantic men pummel each other, and they don't get much bigger than this. This fight is often underrated, because on the surface it looked like Klitschko walked right over Thompson. The champ looked a lot better in the ring, but check his face in the last rounds of the fight: Dr. Steelhammer ate plenty of leather himself. Even so, under pressure from a guy who was bigger than he was, Klitschko somewhat reverted to his old form, where he would stay closer to the other guy and dish out more punishment. The result was, in my mind anyway, the classic Klitschko beat-down.

4. Wladimir Klitschko vs. Chris Byrd I: Byrd was so slick that Klitschko the Elder threw out his shoulder trying to track him with the jab, and Klitschko the Younger had blown his wad trying to out-fight Ross Puritty. Could Byrd do it again? The answer was no, but Byrd did himself proud. His slick, southpaw style made Klitschko tentative in the early rounds, and through the fight Klitschko stayed back and limited himself to sharp, controlled combos. You can see why Corrie Sanders blasted Klitschko three years later in this fight, and for the first four or five rounds, there was the chance Byrd might pull it out. He tried harder than virtually anyone Klitschko has fought since, but was ultimately dropped twice and lost a landslide decision.

5. Wladimir Klitschko vs. Frans Botha: South Africa's Botha was always a durable customer who never gave up in the ring, no matter how out-matched, and that was what made him so fun to watch. This fight was back in the period when Dr. Steelhammer liked to stay closer to his opponents, not move so much, and swung with the hammers more frequently. Botha took a tremendous beating, but doggedly hung on for round after round until he finally fell. Loads of action going both ways, even if only Wladimir was getting any traction with it. The fight is a classic example of the not-so-risk-free version of Klitschko the Younger.