Braekhus vs. Mathis showdown on Nordic Fight Night set for March 17 in Denmark:
Team Sauerland is delighted to announce that the Nordic Fight Night will hit Frederikshavn on March 17, featuring the very best of Danish boxing as well the biggest fight in women's boxing. At the Arena Nord, highly-rated WBA & WBC & WBO Female Welterweight Champion Cecilia Braekhus (19-0, 5 KOs) and top-ranked contender Anne-Sophie Mathis (26-1, 22 KOs) will determine the undisputed pound-for-pound queen.
A full Danish card as well as a Danish main event will be announced shortly. "We are thrilled to come to Frederikshavn," promoter Nisse Sauerland said. "We will present an unforgettable night of exciting, high-class and dramatic boxing action."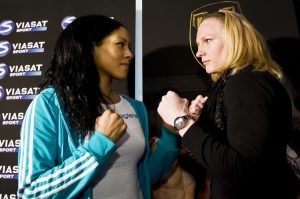 In one of the main fights of the night, Braekhus, the 30-year-old "First Lady" from Norway, and Mathis, the famed and feared French power-puncher with a KO record of over 80 percent, will battle out supremacy in women's boxing. With unbeaten Braekhus holding three major titles and Mathis having destroyed pound-for-pound queen Holly Holm in December, the two are widely considered the best female boxers on the planet.
"This is the fight the world wants to see," Braekhus said. "It's the biggest challenge of my life. Mathis clinched a spectacular victory against Holm but her winning streak will come to an end when we meet on March 17. Only one of us can be the number one and that will be me."
Braekhus will be counting on the home support of her Norwegian fans. "This is the closest I have fought to my home country and I expect many, many fans to come over by ferry from Oslo and support me," she added. "This will be a home match for me."
Mathis, who travelled all the way to Albuquerque to knock Holm out cold, is ready for another spectacular victory. "I have knocked out Holm in her backyard and I will also defeat Braekhus, no doubt about it," she said. "It will be the first loss for the First Lady. I will show the world that I am the best."
From a boxing fan's perspective, it's exciting to see that the best two fighters in women's boxing are meeting in the ring, and it took all of two months to get the fight signed, sealed and delivered. Meanwhile, we haven't come realistically any closer to seeing Manny Pacquiao vs. Floyd Mayweather in over two years.
Good job ladies, now you'll be able to settle it the old fashioned way, in the ring, with everything on the line for fans to enjoy and witness.