On December 11 in Leon, Mexico, IBF Bantamweight Champion Yonnhy Perez defends against the man he dethroned—Joseph Agbeko. This is part of a 4-man bantamweight tournament. The other semi-final match is to be held on the same card, with Vic Darchinyan taking on Abner Mares. Okay, so maybe Fernando Montiel is the "real" champ, but the winner of this mini-tourney will add a couple gems to his record while becoming the clear number-two guy in the division.
And what a division this is shaping up to become, with a gaggle of good fighters vying for recognition. You have these 4 excellent fighters in this tournament, Montiel, and a slew of young up-and-comers that will make this a bantamweight era for the ages. And the fact that the top guys are duking it out shows we won't have one of those frustrating situations where all the top dogs go out of their way to not fight each other.
December 11, 2010
Leon, Mexico
IBF Bantamweight Title
Yonnhy Perez, 20-0 (14 KOs), Santa Fe Springs, California/Cartagena, Colombia, IBF Bantamweight Champion
Vs.
Joseph Agbeko, 27-2 (22 KOs), Bronx, New York/Accra, Ghana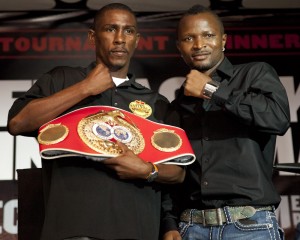 Perez vs. Agbeko II Preview
Yonnhy Perez and Joseph Agbeko have distinguished themselves over the past couple years as premier bantamweights. Agbeko was considered a quality contender, but his unanimous decision over Vic Darchinyan was a most unexpected result. He really put it together, but then appeared flat when he lost a clear unanimous nod to Perez in his last fight.
Let's just say he fought a ton better in the role of an underdog, but seemed complacent and lacked urgency in his first defense against Perez as the favorite, being outworked for long stretches of the fight. That was over a year ago and Agbeko has been inactive since.
Perez has proved to be a lot more than a one-time freak. Prior to winning the belt, he scored a big upset in stopping highly regarded Silence Mabuza in an elimination bout. He showed his championship mettle against Agbeko, followed by a tough draw with Abner Mares. He's more of a rubbery fighter, highly flexible and capable of throwing punches in bunches. Perez bends and doesn't take the full brunt of a shot. He can simply outwork a lot of guys and has the toughness to soldier through whatever his opponent is doing.
Neither man is shy when it comes to absorbing punishment. They are capable of using upper-body and head movement, but sometimes they seem to be all about offense. In fact, Agbeko would be well advised to get back to the slickness he showed in the Darchinyan fight, where he effectively used upper-body movement to give the champion pause for thought. Against Perez in the first fight, he seemed to be almost indifferent about absorbing shots. Lucky for him that he is durable and Perez isn't much of a hitter, but Yonnhy's big swings can hurt when they connect flush. Agbeko will want to be a bit more cagey in this fight.
Questions
Most boxing fans consider these fighters to be newcomers, but both are on the other side of 30 now. Is it possible that either or both of them are slipping a bit? Agbeko didn't look like the same guy against Perez the first time, while Perez has now been in 3 taxing 12-rounders in a row.
Will the version of Agbeko that beat Darchinyan resurface? Will we see the guy who slugs passionately, features quick-trigger and springy attacks, uses good movement, has nice punch variety, and redoubles his efforts after his opponent hits him? Or will we see the flat, somewhat predictable version we saw against Perez?
Is Perez's combination of high workload, in-and-out movement, and deceiving defensive acumen a bad package of skills for Agbeko to deal with? Or was Agbeko's performance in the first fight just an off night for him?
The notion is that Perez is in a better spot in this fight, having been active, while Agbeko will have been out over a year by the time he steps in the ring, with his last memory in the ring being a bad one. Will that be a factor in this fight? Or will the script be flipped, with Agbeko coming back refreshed, with Perez looking a little frayed?
Agbeko vs. Perez II Prediction
I think the difference in Agbeko from the Darchinyan fight to the Perez war was a mental one. We saw what Agbeko was capable of when in peak mental condition. After beating a lower-weights superstar like Darchinyan, perhaps there was some letdown going in against the unheralded Colombian. That proved to be a mistake and one should expect to see a more robust version of "King Kong" in this bout.
Entering this fight in higher spirits, Agbeko will be able to bridge the quickness gap from their first fight. At times, Perez made Agbeko's swings look downright slow, especially when compared to his fluid and free-flowing attack. Agbeko will employ more head movement. He was very reachable, even behind the guard, in their first fight. Perez, meanwhile, creates a guard with his arms and gloves that is very difficult to penetrate.
I see Agbeko fighting with greater overall gusto and giving Perez a lot more issues in this fight. He will fight hard to keep Perez from getting out to a quick start like he did in their first fight. It will give way to a barnburner, maybe even better than their first war, which will be a treat for fans. Many people are looking more forward to Darchinyan-Mares, but this might actually be the better fight. I see Agbeko putting forth a great performance and beginning to catching Perez late with big shots. Perez will run out of answers around the 9th round, when Agbeko puts together a final barrage to bring in the referee.
Prediction: Joseph Agbeko by 9th-round TKO.