Gamboa Looks to Continue Featherweight Dominance & Shine Against Ponce De Leon
On September 10 at Boardwalk Hall in Atlantic City, New Jersey, Cuban Yuriorkis Gamboa will put his unblemished boxing record on the line as he will look to showcase his electrifying speed and quickness against Mexican contender Daniel Ponce De Leon, a hard hitting featherweight that can hurt you with both hands.
Gamboa is coming off a sensational fourth round technical knockout victory over yet another Mexican contender Jorge Solis, while Ponce De Leon moved up to the super featherweight division and gave the undefeated American Adrien Broner all he could handle. In the end, Broner was awarded the tenth round unanimous decision victory, in a fight where most critics and boxing fans felt that Ponce De Leon did enough in that fight to win it.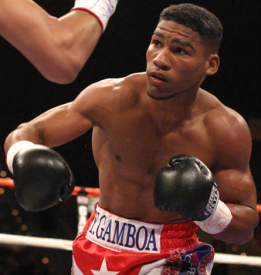 The question that this particular fight poses is whether or not Gamboa can continue to be dominant given the good punching power that Ponce De Leon will bring to the table on September 10.
Tale of the Tape
Yuriorkis Gamboa is 29 years old, with an undefeated boxing record of 20 wins 0 losses, and 16 of his 20 wins were knockouts.  He stands at 5′ 5.5″ , with a 65 inch reach, fighting out of the orthodox stance.
Daniel Ponce De Leon is 31 years old, with an outstanding boxing record consisting of 41 wins 3 losses, and 34 of his 41 wins were knockouts.  Ponce De Leon stands at 5'5″, with a 70 inch reach, fighting out of the southpaw stance.
Gamboa vs. Ponce De Leon Preview
Yuriorkis Gamboa is the current unified IBF and WBA featherweight champion.  The Cuban superstar has an excellent amateur background as some of Gamboa's biggest amateur accomplishments include being a four-time Cuban national champion, winning a gold medal at the 2003 Pan American Games, he won an Olympic Gold Medal as a flyweight in the 2004 Summer Olympics, and became the World Cup champion in 2006.  After the Olympics, the Cuban sensation and some of his fellow boxing teammates defected from Cuba and journeyed on to the United States by way of Columbia and then through Germany.
In Gamboa's last fight, he simply shot down another Mexican contender as he dominated Jorge Solis from start to finish in their recent fight.  Gamboa once again used his sensational handspeed and combinations to overwhelm Solis, knocking him down five times within four rounds before the referee stepped in and stopped the fight in the fourth.
After the Solis fight, Gamboa was looking to face off against Puerto Rican superstar Juan Manuel Lopez to prove to the boxing world once and for all who is the best (and most exciting) boxer at 126 pounds. However, Juanma was upset by the always tough Mexican contender Orlando Salido via eighth round technical knockout victory.
Daniel Ponce De Leon is the former WBO World super bantamweight champion.  Like Gamboa, Ponce De Leon had a great amateur background of his own consisting of being a Mexican National Amateur Champion, earning a bronze medal in the 1999 Pan American Games, and representing his country Mexico in the 2000 Summer Olympics.
Ponce De Leon started his professional boxing career in 2001 and in his first 21 bouts his great power enabled him to make boxing history as he knocked out all of his first 21 opponents.
In Ponce De Leon's last fight, he moved up to the super featherweight division where he squared off against up and coming undefeated American contender Adrien Broner.  During the fight, Broner backed up the whole night, but he landed crisp accurate punches that the judges could clearly see and felt were enough to award him with the decision, despite Ponce De Leon's pressure, work rate and aggression.
Gamboa vs. Ponce De Leon Prediction
In the sweet science, there are two key attributes that you need to have as a fighter in order to stop unbelievable speed: a great jab and effective pressure.  Ponce De Leon knows how to apply pressure, but with the limited boxing skills that he has, I am not sure if he has a great jab to keep Gamboa out of his rhythm.
Yuriorkis Gamboa is blessed with superior handspeed and he will have a huge advantage in this fight to land a lot of punches on Ponce De Leon given that Ponce De Leon comes forward and throws those wild-looping punches. These will create easy and ample opportunities for Gamboa to land a lot of clean hard shots.
Gamboa, however, is known to taste canvas from time to time due to his overzealous attack, so if he gets a little too aggressive, which I expect him to do, Ponce De Leon will have a chance to land something big. He has the power advantage in this fight and he will need to land something big if he wants a chance at winning.
Both fighters will come forward and fight, but in Ponce De Leon's case, he will not be able to out-quick Gamboa. In order to try to hurt Gamboa, he'll need to open up and launch his own slow, looping power shots. Unfortunately, that will leave him all the more open to be tagged by the blazing speed of Gamboa, and he won't be able to make it many rounds in that fashion. Gamboa will press to continue his dominance at 126 pounds and climb up the rankings in the pound for pound discussions as one of the best fighters in the world, period.
Prediction:  Gamboa by fifth round technical knockout victory.