On March 26, WBA Super World/IBF featherweight champion Yuriorkis Gamboa will put his title and his undefeated record on the line against the experienced WBA interim super featherweight Champion Jorge Solis at the Boardwalk Hall in Atlantic City. This will be the main event of Top Rank's "Featherweight Fury" tripleheader. Although many boxing enthusiasts would much rather see the talented Gamboa face off against Juan Manuel Lopez, Solis is one of the top contenders in the super featherweight division and is moving down a weight class hoping to give Gamboa a challenge.
Yuriorkis Gamboa
WBA/IBF Featherweight Champion (Ranked #2 in Featherweight Division Rankings)

19-0 (15 KO's)
Miami, Florida
Height: 5'5 ½"
Reach: 65"
Last 5 Fights: Gamboa has been on a streak of 5 straight featherweight title fights, including notable victories over Orlando Salido, Jonathan Victor Barros, and Rogers Mtagwa. These were all solid, well-established fighters, but none of them has anywhere near the talent that Gamboa has. Gamboa is hoping that Solis can be nothing more than another solid fighter that he decisively beats en route to a fight against Lopez.
Jorge Solis
WBA Interim Super Featherweight Champion
40-2-2 (29 KO's)
Guadalajara, Mexico
Height: 5'8 ½"
Last 5 Fights: Since defeating Likar Ramos in February of 2010, he has successfully defended his interim WBA Super Featherweight title twice and looks to add another title to his resume when he drops down a weight class to fight Gamboa at the Featherweight division. One glaring question in his recent fights stems from his one sided July 2009 loss to Cristobal Cruz. If he can't take Cristobal Cruz, how is he supposed to defeat a fighter as explosive and dynamic as Gamboa?
Gamboa vs. Solis Preview & Tale of the Tape: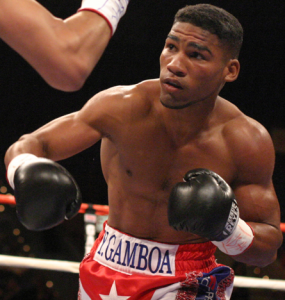 Solis is the taller of the two fighters, with the longer reach and the experience in a higher weight class. He also has knockout power in the super featherweight division, knocking out 29 of his 40 opponents (73%) so it's natural to wonder whether or not this reach advantage and power in a higher weight class will transfer to this fight.
Despite the fact that he is 3 inches shorter than Solis, Gamboa is a very skilled offensive fighter who utilizes his blazing hand speed and ability to attack and get inside to break down his opponents. The reach of Solis shouldn't affect Gamboa's game plan I'm sure he'll still slip most of those Solis jabs and work his way inside to deliver some powerful combinations.
Taking Easy Fights? – It's quite obvious that everyone wants to see Gamboa take on JuanMa Lopez in a battle of the two most explosive and talented featherweights in the prime of their careers. However, it seems as if both Lopez and Gamboa continue to earn wins over little known fighters, either in an attempt to build their records or an attempt to further hype up and delay the fight between Lopez and Gamboa.
Some believe that this is just another easy fight to prime him for the eventual showdown against Lopez. I think that it's good for Gamboa to fight someone bigger, taller and with a super featherweight belt to his name. He's taken out some notable fighters, but a decisive win against Solis (who has faced off against the best of the division) will prove, to an even greater extent, that Gamboa is ready.  Solis is a veteran and has seen some tough fighters, such as Manny Pacquiao and Cristobal Cruz. He knows what it's like to face the best and hopes to utilize his experience against top fighters in the fight against Gamboa.
Gamboa vs. Solis Prediction
Solis is a solid fighter and one of the top super featherweight contenders, but he will be no match for Gamboa. Seeing Solis thoroughly dominated by both Cruz and Pacquiao proves that when faced with a talented, dynamic and unpredictable fighter such as Gamboa, Solis is no match. Expect to see Gamboa finding some great angles and delivering some powerful combinations in this 7th round TKO.
Prediction: Gamboa by 7th round TKO