Zab "Super" Judah is in position to claim a share of the junior welterweight championship on March 5, 2011:
Once again on March 5, 2011, Zab Judah will enter the ring at the Prudential Center in Newark, NJ, as he looks to stake his claim in the sweepstakes to fight the best in the junior welterweight division when he squares off against South African Kaizer Mabuza for the vacant IBF junior welterweight title.  Both of these fighters have been on a roll as of late, often winning their fights in impressive knockout fashion, so which one of these fighters will have the mojo to excite the crowd again with another impressive knockout, and can Zab Judah reclaim a portion of the crown at 140 lbs?
Judah vs. Mabuza Tale of the Tape
Zab "Super" Judah is 33 years old, with a record of 40 wins, 6 losses, and 2 fights ending in a draw.  Judah stands at 5 feet 7 and one half inches tall, with a 72 inch reach, fighting out of the southpaw stance.
Kaizer Mabuza is 31 years old, with a record of 23 wins, 6 losses, 3 fights ending in a draw, and 1 fight ending in a no contest.  He fights out of the orthodox stance.
Judah vs. Mabuza Preview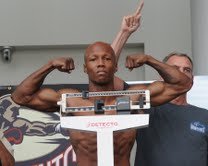 Zab "Super" Judah is the current WBO NABO junior welterweight champion.  He is taking baby steps towards his goal of reclaiming junior welterweight supremacy, but in order to keep moving forward, he will have put on a great performance here. He's going up against a fighter who does have at least a puncher's chance in this fight, given his knockout power and his most notable win, a 6th round stoppage over Kendall Holt.
Judah will have home field advantage once again, as the Prudential Center is becoming a staple for Judah and his boxing fans.  We all know that's Zab's professional career has been a rollercoaster ride, with highs such as defeating Cory Spinks to became the undisputed welterweight champion of the world, and lows such as getting knocked out by Kostya Tszyu in the second round of their fight. He has returned to where it all started at 140 lbs now, and during his comeback he has won his last four fights.
In Judah's last fight, he faced undefeated Argentine native Lucas Matthysse in a bout for the vacant WBO NABO junior welterweight title.  This fight also took place at Judah's home stadium in Newark, NJ.   During the fight, Judah started off strong as usual, jabbing and landing power shots while using his speed to avoid Matthysse's attacks.
But as the fight got into deeper waters, Judah started to slow down, and Matthysse knocked Judah down in the tenth round.  Judah got up and survived, but he was still on shaky legs. During the final two rounds of the fight, Judah was able to stave off the aggressive attack of Matthysse and was awarded the twelve round split decision victor and handing Matthysse the first professional loss of his career.
Kaizer Mabuza is a South African fighter in the junior welterweight division that will be getting his first crack at superstardom if he can beat the well known veteran Zab Judah. Offering an all-action boxing style, Mabuza is currently riding an eight fight win streak that dates back to the beginning of 2008. During this eight fight journey, Mabuza has beaten a few modest fighters such as Jason Naule, Samuel Malinga, and Serhiy Fedchenko. Most notably though and what put him in this position, was his recent vistory over American contender and former champion Kendall Holt. Mabuza shocked Holt with his power and aggression, and ultimately ended up not answering the bell for the sixth round.  Now, Mabuza has his sights set on another shocker if he can beat Judah on March 5th.
Judah vs. Mabuza Prediction
For his sake, Judah should not take this bout lightly, as he has done in the past. In a way, this smells like Carlos Baldomir all over again, a fight where Judah took Baldomir's boxing skills lightly, and got caught with a vicious shot. If Judah can stay focused and use his exceptional skills, putting his jab to use and counterpunching Mabuza with hard, swift shots, I feel that Judah should win easily.
Adding the great Pernell "Sweet Pea" Whitaker to his training camp should help a great deal as well.  Mabuza is a busy fighter, and surely he knows that he must apply a lot of pressure to Judah to test whether or not he will wither in the later rounds. Given Mabuza's work rate, and Judah's great counterpunching skills, I feel that this fight will not go the distance. I feel when the dust clears, Judah will have the knockout he's been looking for, and will finally put another belt around his waist at 140 lbs. However, for all of you Judah fans, beware, because I believe Marcos Maidana may be next in line.
Prediction: Judah by eighth round technical knockout