Star Boxing's just-signed Australian sensation Zac Dunn will put his unbeaten record on the line against Denis "The Momma's Boy" Douglin, on Saturday night, October 24, at The Paramount in Huntington, New York, it was announced by Star Boxing president Joe DeGuardia.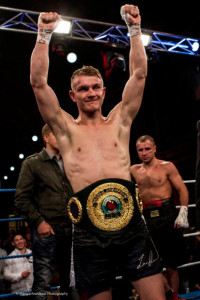 Douglin (19-4, 12 KO's) is a southpaw fighting out of Marlboro, NJ, and comes off two straight knockout victories, his most recent a sixth round KO of Marcos Primera on July 11. The Momma's Boy has won five of his last six bouts. Douglin captured the first 12 fights of his pro career, mostly in the New York-New Jersey area as a product of Rivera Boxing Gym and Gleason's Gym in Brooklyn.
The title tilt is the main event in the next installment of Star Boxing's Rockin' Fights series. Dunn, ranked #10 by the WBC, is the "Wonder from Down Under" who has reeled off 18 straight professional victories without defeat, including 15 by way of knockout. Fighting exclusively in Australia as a professional, Dunn will be making his American debut at The Paramount.
"This will be an action fight from the opening bell," said DeGuardia. "Both fighters are crowd-pleasers with their propensity for the knockout. All but three of Zac's wins have been by KO, and Douglin has won almost 60 percent of his fights via knockout. It's a great fight for boxing enthusiasts."
Dunn is coming off a snazzy 12-round decision over the well-thought-of Max Bursak, the winner of 31 career fights, to take the vacant IBO World title on June 27 at the Royal Exhibition Building in Carlton, Australia. His previous five triumphs were all scintillating knockouts in seven rounds or less. Two ultra-impressive KOs were second round annihilations of Beibi Berrocal, on March 6, and Kyung-Suk Kwak on March 16, 2014, setting the stage for Zac's shot at the title. Dunn did not disappoint the Australian faithful.
Dunn turned pro on the heels of a storied amateur career, scoring 152 victories in 170 fights, while showcasing his talents all over the world. The battle-tested Australian has fought in in Baku, Azerbaijan (bronze at the World Cadets Championship 2007), Guadalajara, Mexico (quarterfinalist in the World Youth Championship as Australian captain), Noginsk, Russia (Silver medallist at Junior Memorial), and Anapa, Russia (Bronze medallist twice at Nikolay Pavlyukov Memorial 2008 and 2009), and Guantanamo, Cuba (silver medallist at the international tournament Giraldo Cordova Cardin 2010).