The debate rages across the world today, whether or not Vitali and Wladimir Klitschko would have been great champions in any other heavyweight era other than their own, or whether instead they would have been capable contenders a rung below the class of champions along the lines of Muhammad Ali or Larry Holmes, or before them, Joe Louis, Jack Dempsey or Rocky Marciano.
A glance around the Heavyweight scene in recent years reveals title challengers and occasional beltholders who would have been nothing more than journeymen in other eras. As such, the problem for fans is that their dominance has been too absolute, and since they won't fight one another, they are deprived of meaningful opposition.
The fear is that as the Klitschkos draw towards the end of their careers, the 'richest prize in sport' will be squabbled over and picked apart by a queue of lesser fighters, becoming devalued and irrelevant in the eyes of the world. The glory years of the sport have always been built on the backs of dominant, memorable heavyweight champions. Without that kind of superstar, boxing itself is diminished.
What hope is there then for a new blue-ribbon champion to emerge from the current crop of heavyweight contenders? It's time to look to the future — Here are my picks as the 5 best fighters who will help to make post-Klitschko era better than we may current believe.
[Also See: The Klitschko Readiness Rating Series]
5. Seth Mitchell
A hot ticket by all accounts, the former football player is signed to Golden Boy promotions and is already tipped as a possible opponent for Wladimir. His record of 25-0-1 with 19 KOs is certainly impressive, although something about him doesn't quite convince me. He has a tendency to fight a little too straight on and I suspect his lack of reach may mean he is caught easily at a Championship level, especially by the bigger men. He has a fantastic, compact physique at 6ft 2 and 240 lbs and appears to have the power and quality to prove me wrong – I would love to see him take on one of the other guys on this list.
4. Denis Boytsov
The explosive, 26-year-old Russian looked a real, top prospect until hand injuries a couple of years ago slowed the hype somewhat. He is known as the 'Russian Mike Tyson' for the electrifying hooks and body shots that he wangs at opponents, although in recent fights they've tended to come as single punches rather than the combinations he once threw. He stands at 31-0 with 25 KOs, but like some of the other guys on the list his record has been padded with stiffs. Boytsov may be in line for a crack at one of the Klitschkos soon. At his best I might have given him some chance. But we haven't seen his best for a while.
3. Tyson Fury
It's a great name (his father actually named him after Iron Mike) and he's a colorful character. Born into the Irish traveling community he has built up an impressive record of 19-0 with 14 KOs, picking up the British, Irish and Commonwealth titles along the way. He can be devastating when on the front foot and in the right frame of mind, but has an unfortunate tendency to leave himself open.
For the first part of his career he often got into the ring looking like he had trained on beer and chips, but a more professional approach has seen him actually look fit in his last couple of fights. He has potential, but is yet to face a real test, choosing to relinquish his British and Commonwealth titles rather than face…
2. David Price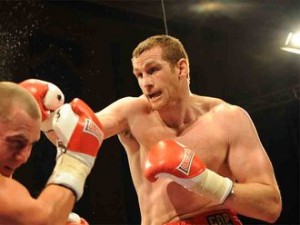 The current British and Commonwealth champion, who only turned pro in 2009 and already has a record of 13-0 with 11 KOs, is a real, natural Heavyweight. Standing 6 foot 8 and weighing 235 pounds, he has a perfect Heavyweight build with the weight distributed exactly where he needs it.
He faces an intriguing encounter with Audley Harrison, the former Olympic Gold Medalist and World Title Challenger on October 13th in his native Liverpool. Despite his inconsistency, Harrison represents a step-up in class for Price and if focused and on form could pose him problems. Price is probably the best of Britain's current heavyweight cohort. A convincing win would propel him onto the world scene.
1. Deontay Wilder
'You can only fight the guy they put in front of you', my father always says and this could be an appropriate motto for the career thus far of 'The Bronze Bomber', whose opponent list reads like a who's who of journeymen and dead-end, club fighters. That said, he could not have done more than produce a record of 25-0 with 25 KOs. [Editor's note: Although recent rumors indicate his team turned down a date with fellow undefeated American heavyweight hopeful Bryant Jennings].
He is more athletically built than many Heavyweights at 6ft 7 and 215lbs, but at 25 is the perfect age to establish himself as a force for years to come, with speed and a natural heavy-handedness that will account for better fighters than those he has met so far. He has the size, reach and power to potentially trouble Wladimir Klitschko, if he developed in time to face him before Klitschko hung up the gloves for good.
For me, it is these five men who have the best chance of establishing a new Heavyweight era. Due to the size and reach of the Klitschkos, I can only see Price or Wilder mounting a successful challenge, which is why I placed them one and two. Mitchell and Boystov are exciting fighters but would have to work like madmen just to get in range. Fury is fun, but a bit too wild. If 'Dr Ironfist' retires however, I could see any of the five becoming Champ.
Therefore, despite what you may hear to the contrary, there is real hope for the post Klitschko future. If the fighters above continue to develop, the makings of a quality heavyweight pool are there and we could be seeing some very interesting showdowns over the coming years.
Why not let the world see something along the lines of a Super Six tournament for Heavyweights, involving the names on this list? The excitement generated by such an event would be huge and would restore glamor to a division that has been drab for much too long.