Who was Boxing's Best Champion in 2011?
Champion of the Year rewards activity, consistency and longevity. The minimum to qualify for consideration is holding onto a world championship for all 365 days of the year, from January 1 to December 31. After that, the question is one of how many times a fighter defended his title, against who, and how well he did in carrying out those defenses.
Don't forget to check out the rest of our 2011 boxing awards for dozens of different year-end awards and honors!
2011 Champion of the Year: Sergio Gabriel Martinez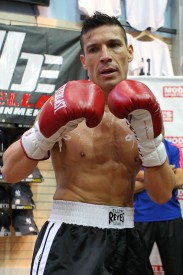 Those factors dictate only one man for 2011's Champion of the Year: Sergio Gabriel Martinez. Some will cry foul, as Martinez was (wrongfully) stripped of his WBC belt, which was then handed to Julio Cesar Chavez, Jr. on a silver platter. Yet Martinez has a better claim to the title "world champion" than many of the boxers who wear gaudy belts around their waists.
First and foremost, Sergio Martinez lost nothing in the ring. He remains the main who beat Kelly Pavlik, who beat Jermain Taylor, who beat Bernard Hopkins. In a world of fragmented and sometimes prostituted world title belts, being the lineal champion — the man who beat the man — counts for something.
Furthermore, Sergio Martinez isn't a George Foreman, who made the same claim in the early 1990s after beating Michael Moorer and avoiding any serious opposition. Martinez defended his title twice in 2011, both times against serious, undefeated contenders. Serhiy Dzinziruk was the reigning WBO light middleweight champion, and Darren Barker a tough, rising Briton. Martinez disposed of both stern challengers by KO or TKO. While some boxers in 2011 defended their titles more times, none has faced two legitimate Top 10 contenders during the calender year.
Finally, Martinez remains The Ring's champion, our #1 middleweight boxer, and widely acknowledged among fight fans as the man at middleweight. Naming a boxer like "Maravilla" as Champion of the Year isn't controversial. Instead, granting the award to Martinez strikes a note of clarity in a picture muddied by corrupt sanctioning bodies, and reminds us what being a true champion is all about.