The Biggest Disappointment in Boxing in 2011
The year that was in boxing in 2011 seemed to be a bit jinxed. While there were plenty of fantastic highlights, great matches and noteworthy occurrences, the lasting feeling for the year will be one of disappointment, missed opportunity and in many cases, controversy. But what was the most notable disappointment of the year in boxing? Take a look.
Boxing's Biggest Disappointment in 2011: David Haye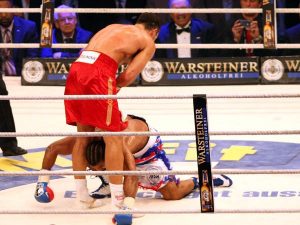 On July 2nd, Wladimir Klitschko and David Haye finally squared off against one another in what was supposed to be the biggest and most highly anticipated heavyweight championship match in at least a decade. With three of the four major sanctioning belts on the line, Haye pulled a complete no show.
He avoided action all throughout the contest, and did none of the intense pressuring and attacking that he promised. He repeatedly fell to the canvas to try to get a point deduction from Klitschko for pushing. Oh, and he blamed a broken toe for his performance. Seriously.
After years of trash talking, showing up to press conferences wearing t-shirts with the decapitated heads of the Klitschko brothers and so much more, it was the kind of complete failure that almost makes you embarrassed for him. Almost. Haye's drunk British fans in the audience seemed like they'd be more willing to engage than he was.
That was Haye's only fight in 2011, and if you believed his retirement announcement, the last one of his career. Of course, there are already rumors that Haye will be back soon. But, at this point… who cares? His five fight heavyweight stint spanned three years, and featured a scintillating slate of matches: Monte Barrett, Nikolay Valuev, John Ruiz, Audley Harrison and Klitschko.
Don't forget to check out the rest of our 2011 boxing awards for dozens of different year-end awards and honors!
Runners-Up: Big Event Letdowns, Referees and Judges, Oh My!
There was no shortage of runners-up to be in contention here. Consider this quick list of the big events that disappointed, the referees and judges who created controversy and madness, and more…
Big Events
Haye vs. Klitschko: See Above
Pacquiao vs. Mayweather: Surprise, doesn't happen. Biggest fight of the generation continues to sit on the shelf.
Bradley vs. Alexander: Fails to deliver in every way possible. Boring, inconclusive, and devoid of interest from mainstream media, or fans in attendance. Sets the stage for the rest of the disappointments to come in 2011.
Weird Endings
Hopkins vs. Dawson: The match inexplicably is made on pay-per-view, then ends in two rounds thanks to a Hopkins shoulder injury. Dawson is ruled the winner, then the decision is overturned.
Agbeko vs. Mares I: Mares hits Agbeko with dozens of low blows; referee plays the part of the honey badger, and doesn't give a shit.
Williams vs. Lara: The robbery of the year leads to all three judges being suspended by the NJSACB. Williams has HBO crew thinking he's in danger of permanent injury, then gets the decision. Great.
Mayweather vs. Ortiz: The infamous KO4 win for Mayweather, and the post-fight interview drama.
Klitschko vs. Solis: Solis goes down with knee injury in round 1. Looked competitive… for 150 seconds.
Pacquiao vs. Mosley: Fight gets made for some reason. Mosley commences extreme hiding and hugging tactics.
Cunningham vs. Hernandez: Fight stopped based on cuts which weren't worthy of stoppage, Cunningham loses on scorecards when he should have been ahead.
More Bad Decisions: Sturm vs. Macklin, Alexander vs. Matthysse, Pacquiao vs. Marquez III… and more.