Biggest Disappointment in Boxing 2012 Award
Boxing is a sport that's filled with disappointments. Any fan's true mettle, his innate thirst for the Sweet Science, is continually tested. Certainly, that was the case in 2012. A column discussing the biggest disappointment of the year could go on for thousands of words, covering dozens of people, issues and moments. I'll try to distill all of that down into one core problem which has flared up in 2012 to entirely new levels.
—-> View all of our 2012 Boxing Awards!
Steroids & Performance Enhancing Drugs in Boxing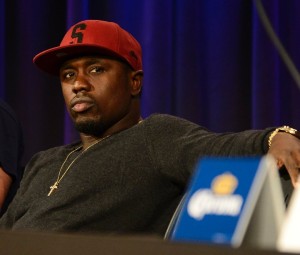 Lamont Peterson. Andre Berto. Antonio Tarver. Erik Morales.
Just a few of the top names involved in drug scandals of one form or another in boxing this year. From steroids to other performance enhancers to drugs used to mask the others, there's an epidemic in boxing today.
The excuses are diverse as well. From doctor prescriptions to tainted over the counter supplements to bad food and who knows what else.
The problem grows worse when you consider the way that drug testing has been handled in boxing. The state commissions are inept, some of them admittedly so. The organizations trying to do good work, such as VADA, are hampered by the people they're trying to help. The promoters and fighters most interested in testing seem to continually be the ones getting into the most controversy.
Damage is done to the reputation of the fighters who fail tests, to the organizations and individuals who mishandle the issue, and to the credibility of the sport as a whole. Fans also miss out, as we didn't get to see intriguing fights which had been planned, such as rematches between Peterson and Amir Khan, and Berto and Victor Ortiz.
Steroids and performance enhancing drugs are rampant in boxing, and a real solution needs to be found and put into place as soon as possible.
For a great introductory primer to the subject, I recommend reading Thomas Hauser's "The PED Mess" two-part series.
Dishonorable Mention: Awful Judging
In any other year, the awful decisions which have disgraced the sport in 2012 would have clearly been the biggest disappointment. The list of the top 2012 Robbery of the Year contenders was certainly a long one, and damage was inflicted at the absolutely highest levels of the sport, as we saw when Timothy Bradley defeated Manny Pacquiao in June with truly terrible scoring.
However, the raging issue of performance enhancing drugs, by no means a new problem — I wrote a column in April 2009 wondering why nobody cared about steroids in boxing — but one which is continuing to grow in severity and size the more we explore it, is the biggest disappointment in boxing this year.