On Saturday afternoon, the long-awaited rematch between Tomasz Adamek and Steve Cunningham took place in Bethlehem, PA, broadcast live on NBC. That's two fights on two different networks in two weekends, folks!
Adamek vs. Cunningham II was very similar to the first fight in many ways, but instead of providing a late candidate for Fight of the Year, we received a late-year candidate for Robbery of the Year, as Adamek was awarded a very difficult to grasp Split Decision victory.
Take a look at the Adamek vs. Cunningham II results right here.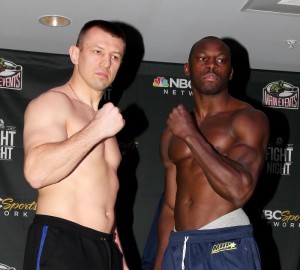 The official judges' scorecards were first read 115-115, 115-113 Cunningham, 116-112 Adamek, for a Draw. Then Michael Buffer announced a correction, that the first scorecard should have been 115-112 for Adamek, giving him the Split Decision win.
ProBoxing-Fans.com scored the fight live 117-111 for Cunningham, giving him 9 rounds.
Many of the rounds were tight and difficult to score, but I have a hard time seeing how Cunningham won less than 7 rounds in the fight. And for two judges to have Adamek winning 8 rounds, well, it doesn't make a whole lot of sense.
Cunningham controlled much of the fight with his boxing. He utilized a stiff jab to keep Adamek at a distance, and often followed it up with a big right hand.
Adamek had his moments when he was able to get inside, or get Cunningham against the ropes. There, he found a home for his own thudding shots. But Cunningham seemed to the one dictating the majority of this fight, and he should have gotten the victory.
Cunningham's snake-bitten stretch continues. He has as many controversial outcomes on his ledger as any other active fighter in boxing today. He's just never received any breaks or good fortune in his career, and this defeat will surely be a hard one for him to handle.
In the opening bout of the NBC card, heavyweight prospects Vyacheslav Glazkov and Tor Hamer squared off. Hamer, riding the momentum of his Prizefighter win, had a lot of momentum heading into this match, while the undefeated Glazkov has serious amateur chops, including a bronze at the 2008 Olympics, and amateur victories over the likes of David Price.
The fight though ended up pretty much being a wash. The first stanzas were slow, as the more powerful and technically sound Glazkov looked to land his bigger shots.
After the 4th, Hamer went into the corner looking dejected, and he didn't come out for the 5th. He could be seen on his stool in the corner, shaking his head and only saying "I'm sorry… I'm sorry."
Thanks for checking out our coverage of the Adamek vs. Cunningham results and check back with us later for more of the post-fight aftermath for this controversial outcome.