The Most Avoided Fighter in Boxing 2012
The most fastidious hostess would give Typhoid Mary free rein of her kitchen before the leading lights of the middleweight division would sign on to face a certain Kazakh of phenomenal punching power, and that's why our recipient of 2012's Most Avoided Boxer of the Year Award is…
Gennady Golovkin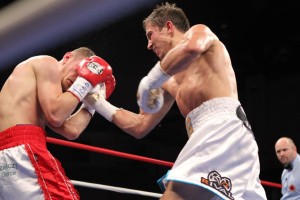 Third-ranked and WBA champ Gennady Golovkin (24-0-0, 21 KOs) turned pro six years ago, following a stellar career as an amateur.  In addition to bringing home the silver at the 2004 Olympics, Golovkin won several international titles, and defeated such worthies as Daniel Geale, Lucian Bute, and Andre Dirrell.
Adding to Golovkin's success as an amateur is his intimidating reputation since turning pro.  He remains undefeated and has a KO rating of 87.5%.  "GGG" hasn't won by mere decision in four years and 11 fights.  "Intimidating" is indeed the operative word — as far as his fellow middleweights are concerned, Golovkin is pure kryptonite.
Golovkin is eager to face the likes of second-ranked and IBF champ Geale, fifth-ranked Julio Cesar Chavez Jr., seventh-ranked and WBO champ Peter Quillin, and eighth-ranked Felix Sturm.  Any takers?  What's that I hear, crickets?  At best, spluttering excuses.
—-> View all of our 2012 Boxing Awards!
Quillin is facing Fernando Guerrero in February — a bout that will prove nothing beyond Quillin's ability to take out a second-tier fighter.
Golovkin has been given two measly bouts over the course of the year.  His opponents:  Makoto Fuchigami and Grzegorz Proksa.  Golovkin defeated the former by third-round TKO in May and the latter by fifth-round TKO in September.  Fuchigami is at best so-so.  Proksa is a lot more than that, but hardly in the same league as Geale and other top-of-the-liners.
And what of first-ranked and WBC champ Sergio Martinez?  If anyone can beat "GGG", it's "Maravilla".  But the Argentine doesn't seem keen.  And no wonder — he doesn't think he can do it…and neither do I.  Recall what Chavez Jr. did to Martinez in the final round of their September bout.  Golovkin wouldn't wait until the 12th — he'd be on Martinez like mustard on a dog from round one.
Golovkin's next opponent?  Junior middleweight Gabriel Rosado, whom "GGG" will face at Madison Square Garden on January 19.  "King" is able and gutsy, but…talk about low-hanging fruit.  For all I know, it'll be over before the ref finishes his instructions.
Rosado says "Golovkin is one of those fighters that nobody wants to fight."  Indeed he is.  And if he can't get meaningful bouts at the middleweight division — if he's refused the opportunities needed to unify the various belts — he should seriously consider moving up to super middleweight.  I'd love to see "GGG" take on Donovan George and Brian Magee, and — even more challenging — Adonis Stevenson and Thomas Oosthuizen.
And speaking of super middleweights, I have a runner-up for Most Avoided Boxer of the Year:
Andre Ward
First-ranked, and WBC and WBA champ, Andre Ward (26-0-0, 14 KOs) has had one fight this year, in September, and not against a super middleweight, but against WBC light heavyweight champ Chad Dawson.  Ward TKO'd him in the 10th.
In fairness, the super middleweight division isn't so much in a state of avoidance as depletion.  Ward has taken on and beaten the best, including Arthur Abraham and Carl Froch.  There's nothing left for him to do but continue to bring woe and wreck and ruin to the light heavyweight division.  Andre Ward facing off against fellow undefeated Nathan Cleverly would be an outstanding match-up, for instance.
Hmmm… now Ward vs. Golovkin, that's an intriguing fight that could solve all of these wrongs at once.