2012 Boxing Fight of the Year
This year must have left a bitter taste in the mouth of UFC honcho Dana White, who can barely open his mouth without crowing that boxing is dead, as it produced a bumper crop of excellent fights. This was so much the case that several bouts that might have been Fight of the Year candidates in an ordinary year fell by the wayside, crowded out by a handful of truly elite contests that produced stellar results. It really says a lot about what happened this year when bouts like Carl Froch vs. Lucian Bute and Roberto Guerrero vs. Andre Berto got elbowed out of contention.
Two fights stood out at the end: Rios vs. Alvarado and Salido vs. Lopez II. Choosing between them was no easy feat, but upon weighing all factors, it's Salido vs. Lopez II that comes out as 2012's Fight of the Year.
Fight of the Year 2012: Orlando Salido TKO10 Juan Manuel Lopez II
—> View all of our 2012 Boxing Awards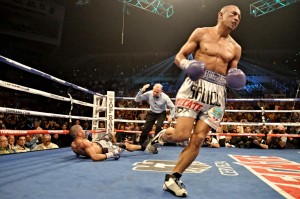 Salido vs. Lopez II rivaled the more ballyhooed Rios vs. Alvarado in the action department, with Salido and Lopez ultimately building up to and matching the furious pace set by Rios and Alvarado in the early rounds. Whereas Rios vs. Alvarado started out with a bang, Salido vs. Lopez II achieved a crescendo. The 9th Round, the 2012 Round of the Year, illustrates that point nicely, with just shy of 200 punches thrown in that next to last round.
This was an all-action barnburner of a bout between two top featherweights, and Salido ultimately won it by outlanding rather than outworking his opponent. Siri finished the bout in classic fashion, landing a sharp three-punch combo that put Lopez on his ass. The Puerto Rican got up, but was obviously too wobbly to continue.
Now up to this point, Salido vs. Lopez II is a rough equivalent for Rios vs. Alvarado. It's the added bonuses of this fight that put it over the top and made it the Fight of the Year.
First, let's remember that Siri came into this rematch as a clear underdog, despite having stopped JuanMa in their previous bout. While easy to forget in retrospect, the win was a big upset on the night that it happened. Second, the bout was a classic Mexico vs. Puerto Rico clash held in San Juan, Lopez's backyard, with all the drama that one might expect from such a contest.
Finally, after the fight Lopez shot his mouth off, alleging the referee stopped the fight early because he had gambled on it, prompting the WBO to suspend Lopez for one year. I ask you, where would boxing be without farces like that?
Runners-Up: Brandon Rios TKO 7 Mike Alvarado; Juan Manuel Marquez KO6 Manny Pacquiao