The 2013 Fight of the Year Award in Boxing:
Over the years, the Fight of the Year is usually not the actual best fight of the calendar year. It's usually a very good fight, but to even qualify for FOTY honors, it has to be a highly-visible fight between well-known combatants and preferably champions. It's usually a fight in the States and a bout that was aired on HBO, Showtime, and PPV. ProBoxing-Fans.com's 2013 Fight of the Year was the best fight to take place this year, even though most fans in the States and worldwide never got to see it.
2013 Fight of the Year: Giovani Segura vs. Hernan Marquez –
The Giovani Segura vs. Hernan Marquez fight was a real gem, a fight that should be hailed as a testament to the spirit of a fighter. Segura stopped Marquez with one second left in the 12th round. No title was on the line. It wasn't on big-time TV. And only the most-ardent boxing fans even have Segura and Marquez on their radar. It was also a bout fought at flyweight, a division that typically get neglected in terms of annual awards.
It was a frenetically-fought 12-rounder that landed Marquez in the hospital and perhaps in a position where this battle sapped his remaining powers as a top-notch flyweight. Even for Segura, this is a bout where you have to question what the battlers will have left as they look to the future.
Neither Segura nor Marquez are world champions, but both are top guys at 112 pounds. Segura, 31-3-1 (27 KOs), is a decorated former unified champion at 108 pounds. Marquez is a former WBO 112-pound champion who overcame a 2010 stoppage defeat at 115 pounds to Nonito Donaire to become one of the more exciting fighters at 112. His 2011 war with Luis Concepcion could have easily won this award, as well. Both fighters were stopped by Brian Viloria in key flyweight title fights.
Marquez, who throws shorter and more-compact punches, got off to a good start against the wide-swinging brawler from Bell, California. Marquez had the edge, but when Segura was allowed to run off punches, the damage was palpable. By the 4th round, Segura's blasts had begun to dent Marquez, who went down after a series of blows. As is his wont, he climbed off the mat and fought back with spirit. In the 5th, Marquez had steadied the ship, rattling off nice combinations and taking the round.
—> Check out all of our 2013 Boxing Awards!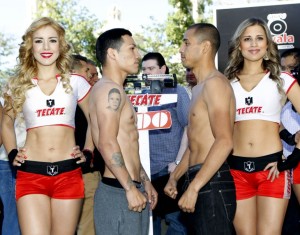 All the while, they were fighting like possessed dogs with rabies. The action was unrelenting. With other fights having taken place all night on more-premier channels, those who drearily tuned into UniMas late or recorded it on their DVR got a pleasant surprise. This reporter quickly went from under-the-covers and nearly asleep to seated and alert as a meerkat on 10 espressos. These are the kinds of sagas a lot of us live for.
The momentum of the fight changed more times than I can remember. By the 8th, Marquez looked to be doing well. He was handling Segura's punches better. Even when trapped on the ropes, he would fight back crisply and with all the spirit you could ask. Segura's chin was amazing, as he sponged dozens of punches that would have spelled doom for all but the very elite flyweights.
As the fight got into its last stage, it was impossible to ignore the damage Segura's heavier blows were doing to the countenance of Marquez, whose face had become a mess. Segura was desperate, knowing he was probably behind on the cards. His punches lacked refinement, but he never for a moment quit pouring it on. Whenever he could punch, he did, and Marquez couldn't avoid all of them. Marquez, though the far-slicker fighter, still had to bear the brunt of the relentless Segura attack.
Even after suffering a questionable knockdown created by a push in the 11th, Marquez appeared to be headed to victory. With time running out, Segura managed a textbook hook that spilled Marquez dramatically on the canvas. The referee, perhaps sensing trouble, called a halt. Then we had to see Marquez getting carried out on a stretcher and taken to the hospital where he thankfully recovered. If not for that all-important ingredient, it would have been hard to look back at this fight with any fondness.
Segura-Marquez had it all–a late stoppage scored by a fighter behind on the cards, nearly 12 full rounds of passionate fighting, a pleasing contrast in styles, and two men who were willing to put it all on the line, despite no title being at stake. Those who saw it will not soon forget it. Segura-Marquez is the 2013 Fight of the Year.
2013 Fighter of the Year Runner-Up: Timothy Bradley vs. Ruslan Provodnikov
Bradley was supposed to handily defeat the uncelebrated Provodnikov. We know better now, but at the beginning of 2013, the Siberian Tiger was looked upon as a good ESPN-level fighter–no match for a champion of Bradley's standing. It was apparent early we had it all wrong, as Provodnokov strafed Bradley with one power shot after the next. Bradley barely hung on and when we say barely, we mean barely.
Bradley had some more rocky moments over the ensuing rounds, but re-established control with a more boxing-oriented approach. It looked like he had permanently regained control, but then came the final round. Provodnikov unloaded on Bradley, as huge punches careened off the champion's face and head. Bradley went down in a heap as a race against the clock began. Bradley dragged himself up. Somehow, almost impossibly, "Desert Storm" braved through the bombardment to see the final bell.
A dramatic reading of the cards revealed a unanimous win for Bradley–by one point on two cards. There were a few times where if if you had paused the action on your TV, you would have laid 100-1 that Bradley was seconds away from being a knockout victim and he came through each time.
3rd Place: James Kirkland vs. Glen Tapia
Maybe it stands out more because it is so fresh in out minds, having taken place in December. It was still one heck of a fight, featuring a dramatic and sudden turnaround. Tapia buckled Kirkland's knees and appeared to have him on his way out and he emphatically took control to open the fight. Kirkland looked wooden and spent and coming off a layoff, looked to be a certain stoppage victim to the energized youngster.
It didn't take long for the tide to turn. Kirkland snatched back the momentum and was soon shellacking Tapia with an unending series of shots. Still, it was hard to not be moved by the heart and effort of Tapia, even as things soon plummeted south. The only thing marring this fight was the inept cornermen of Tapia, who should have pulled the plug earlier and the suddenly-inept referee Steve Smoger. Even as he belatedly called it off, his lack of decisiveness made it so Tapia took a few more shots he didn't need. That still doesn't take away from a great fight that distinguished both participants.