The flyweight division has seen some high quality fighters passing through the ranks in recent years. The best have been moving up to conquer new weight classes, but the division is restocked with great talent once again. Here's a look at the best flyweight boxers in the world, in a very deep division, particularly in the super-competitive Japanese, Filipino and Mexican fight scenes, where most of the big name fighters continue to face each other and exchange belts, lending a great deal of chaos to the rankings.
Flyweight division rankings (112 lbs.) last updated September 2014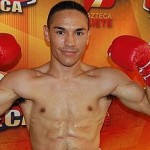 Flyweight Division Champion:
Juan Francisco Estrada
Record: 27 (20) – 2
Next Fight: TBD
Coming off a loss to Roman Gonzalez, and with Brian Viloria on a hot-streak, nobody really pegged an upset in their fight. But Estrada got the job done, setting Viloria back yet again. Added a win over Milan Melindo in his next bout, who had been unbeaten when they met, and most recently, an impressive beat down of Giovani Segura. Estrada is entrenched here, and the rematch between him and Roman Gonzalez is all that matters now.
Top 10 Flyweight Contenders
Roman Gonzalez – The three-division titlist and #4 pound for pound fighter in the world took care of business against Akira Yaegashi in his first major flyweight fight. Now, he's ready for the division's champ — a guy he's already beaten. Will Gonzalez vs. Estrada II happen soon? Here's what you should know.
Brian Viloria – Viloria had been on a real tear. Big wins over Julio Cesar Miranda and Giovani Segura vaulted Viloria to the top of the division. He got his revenge against Omar Nino Romero, and then he claimed clear top dog status with a stoppage win over Hernan Marquez, unifying the WBO & WBA belts in the process. Then he loses to Estrada, another in a long-line of surprise defeats. What a long, strange journey it's been for this guy and his career. Two wins since that split decision loss.
Juan Carlos Reveco – Reveco held the interim WBA strap since 2010, but only became the official titleholder in 2013. Hasn't faced the same caliber of opposition as the other top guys in this division, hiding out in Argentina instead.
Amnat Ruenroeng – The Thai fighter is unbeaten, and has beaten Rocky Fuentes and Kazuto Ioka. Needed a split decision to get past McWilliams Arroyo after being knocked down in that fight.
Akira Yaegashi – Yaegashi scored a pretty big upset by defeating Toshiyuki Igarashi and bringing home the WBC belt in the division. He previously had been campaigning at minimumweight, but seems more settled in at flyweight. Also defeated Edgar Sosa before losing to simply a better man in Roman Gonzalez.
Moruti Mthalane – Moruti Mthalane lost to Nonito Donaire several years ago, however he has since beaten Julio Cesar Miranda for the vacant IBF strap and has made four successful defenses of that belt. Lost his belt with inactivity, but is now returning to the ring and getting active once again.
Giovani Segura – Two losses in three fights, including a knockout defeat at Brian Viloria, left some wondering if Segura was at his end. A dramatic 12th round KO victory over Hernan Marquez settled that and brought Segura back near the top of this class. Yet, in his most recent loss to Estrada, the questions of being worn done have surfaced again.
Hernan Marquez –After losing two in a row, including a bout to Nonito Donaire, Marquez, "Little Tyson", won 7 fights in a row, knocking out Luis Concepcion to win the WBA strap, and then stopping him in 1 round in his second title defense. Viloria outclassed him though, despite a few tense moments and a generally hard fought battle, and then he couldn't quite make it to the final bell against Giovani Segura.
Milan Melindo – Melindo and his team certainly waited a long time to move up in class. Then he was easily outclassed by Juan Francisco Estrada when he did step up. Has scored two more wins since then and is rebuilding himself for another title run.
Kaz Ioka – Ioka's debut in the flyweight ranks was an unsuccessful one, losing to Amnat Ruenroeng via Split Decision. But the long-time titleholder at junior flyweight will be back.
More names:  Ulises Solis, Luis Concepcion, Wilbert Uicab, Rocky Fuentes, McWilliams Arroyo
More Boxing Weight Class Rankings