This past weekend, the boxing world was busy with fights such as Tomasz Adamek vs. Eddie Chambers on NBC Sports Fight, and Julio Cesar Chavez Jr. vs. Andy Lee on HBO. Adamek-Chambers added to the recent pile of controversies and bad scoring in the sport, and meanwhile, next weekend, an under the radar fight with Lucas Matthysse vs. Humberto Soto should be a winner for fight fans.
Chambers-Adamek Controversy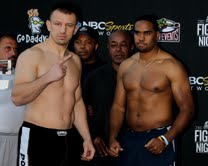 For the 2nd straight week there was a controversial decision in boxing.  In a significant fight in the heavyweight division, Tomasz Adamek was awarded a unanimous decision over Eddie Chambers.
I want to start off by saying that this was a very difficult fight to score. Adamek was consistently throwing more punches each round than Chambers.  However, throughout the fight Chambers landed the cleaner and more effective punches, particularly with the overhand right.
Ultimately, I have absolutely no issues with Adamek being awarded the decision. Some of his punches were getting throughand there were rounds that he simply outworked Chambers. However, I do have a problem with the wide margin of victory.  In particular the score of 119-109 was absolutely ludicrous.  There is no possible way that Chambers won only one round.  I even feel the two scorecards turned in at 116-112 for Adamek were a bit of a reach. My scorecard read an even 114-114.  I could see an argument made for 115-113 either way as well.
Jennings' Progression Continues
Bryant Jennings continued his rise up the heavyweight ranks with a unanimous decision over the tough but outclassed Steve Collins.  Jennings displayed good hand speed and precision punching but failed to finish off his overmatched opponent.
There are a couple quick things I would like to point out about his performance.  First we need to keep in mind that he is still a work in progress.  He has only been boxing a couple years and could benefit from more time in the gym.  Throughout the fight against Collins, he would get lazy with his jab and just push it out instead of snap it.  This lazy jab left him open many times and better fighters would take advantage of it.
Additionally, while I did love the fact that he was trying to throw uppercuts, sometimes he would get careless and throw them from too far away. Jennings is a prospect to keep an eye on in the heavyweight division but still has some fine tuning to do before he can compete with the division's elite.
Looking Ahead: Matthysse-Soto
Last week I predicted that Josesito Lopez would stop Victor Ortiz this coming Saturday.  I wanted to add that I also believe the Lucas Matthysse – Humberto Soto fight will be a fight of the year candidate.  As the old saying goes "styles make fights" and the aggressive styles of these fighters in a must win fight for each will produce fireworks.
I do like Matthysse in this fight.  He is the naturally bigger man having fought most his career at Jr. Welterweight.  Soto started at 118 and had most his success in the Jr. Lightweight and Lightweight classes.  Soto has also taken much more punishment throughout his career than Matthysse.  I believe Matthysse will either stop Soto in the late rounds or win a unanimous decision.