Unfortunately for boxing the past weekend's headlines were dominated by the negativity surrounding the Pacquiao-Bradley decision.  However, despite that black eye for the sport there was another fight which showed fans why we keep watching the sport we love.
In baseball, if a team is down 12-1 in the ninth inning fans know a comeback is not going to happen.  But in boxing if a fighter is hopelessly down in a fight there is always hope – especially when you go by the name of the "KO King" –  and that was never more in evidence than it was for the Randall Bailey-Mike Jones vacant IBF welterweight title fight on the Pacquiao-Bradley undercard.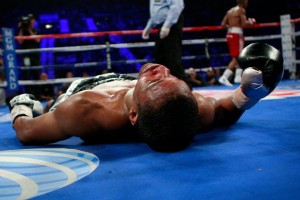 The aging former champ Bailey rallied from behind to score a dramatic knockout of the undefeated Jones.  The story itself is amazing, as Bailey's career looked to be coming to an end and then in a flash that all changed.  In my opinion it is fights and moments like this which make the sport of boxing so great.  Only in boxing can a participant who is hopelessly behind from rally and change the result in an instant.
Here are some more thoughts of mine from the weekend…
Following the dramatic victory for Bailey on Saturday, I thought a good match up for him would be against another Top Rank prospect in Mike Alvarado.  For Bailey this would be a well earned decent payday, and for Alvarado this would be an opportunity to win his first title.  And even better news is that this would seem on paper to be a very fan friendly fight.
Pavlik Continues Comeback
Kelly Pavlik put on a solid performance on Friday Night Fights and should garner enough interest for a big name in his next fight.  In my opinion he and his people should try to make the Lucian Bute fight.  Pavlik has an excellent right hand and against the southpaw Bute I see him landing that punch rather easily.
Also being mentioned by Pavlik on Friday was Carl Froch.  If I were Pavlik's people I would avoid that fight as a relentless pressure fighter like Froch would seem to pose problems for Pavlik.
The most impressive performance from the weekend was from Jesse Magdaleno.  He showed vast improvement from his past couple fights and also showed one punch knockout power in his destruction of Carlos Valcarcel.  The only other time Valcarcel was stopped was in 2008 against Eric Morel.  Magdeleno is definitely a prospect on the rise and a fighter that I can't wait to see again.
Canelo vs. Ortiz? Not so Fast
And finally I have an early prediction for the Alvarez-Ortiz fight just that was just announced.  The fight will not happen.  I believe Josesito Lopez will stop Victor Ortiz in their fight next week.  Lopez has never been stopped and three of his four losses were either by majority or split decision showing they were close fights that could have gone either way.  He is a pressure fighter in a similar mode to Maidana and we all know what happened in that fight.