This past weekend provided boxing fans with an array of high level fights, and there's a lot to think about following the way that these fights played out.  From the Cotto vs. Margarito pay per view card to the Agbeko vs. Mares card on Showtime, and much more, let's take a look at a few things we can take away from the weekend.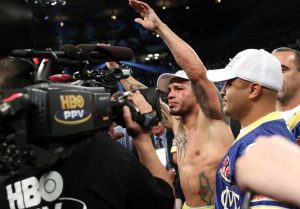 Will Cotto make the move up to Middleweight? After the dominant performance by Miguel Cotto Saturday night in his TKO victory over Antonio Margarito, it would be safe to assume that he will be looking for another big fight in the near future.  After the fight, Cotto's team expressed an interest in Julio Cesar Chavez Jr. and his WBC middleweight title.  If this fight was to happen, and Cotto were to win, it would be the fourth weight class he was able to earn a title in. There's also the potential for a match against Floyd Mayweather.
Mares vs. Moreno soon to come? 2 of the best bantamweights were victorious Saturday night on the same fight card.  Abner Mares defeated Joseph Agbeko via unanimous decision, this time in a non-controversial fashion.  Anselmo Moreno turned out an impressive upset victory over veteran Vic Darchinyan and launched himself into the mix of elite bantamweights.  Could these two meet each other in the near future?  With top dog Nonito Donaire looking to move up in weight, these two will be the top two fighters in the division, so it is likely they will see each other eventually, but the question is when.
What's next for Margarito? Following the disappointing loss to Cotto, some may expect that Margarito will be calling it quits, but he and his camp have made it clear that he is not done.  It seems that he still has more fight left in him and it will be interesting to see who he and his team will target next.
Home-cooking in Helsinki: After the heavyweight bouts in Helsinki, Finland Saturday night, the heavyweight picture isn't any clearer.  In the bout for the European Heavyweight title, the consensus is that Derek Chisora was robbed.  Robert Helenius, the Finland native, was awarded the split decision victory and Chisora's team immediately called for a rematch.  In a fight on the same card, Alexander Povetkin put away a 42 year old Cedric Boswell, an outcome that was pretty much expected.  So, who knows what this does for the Heavyweight title picture as the Klitschkos are still on top and awaiting someone to show some sign of a threat for the titles.  Perhaps a rematch between Chisora and Helenius could produce an opponent for one of the brothers and it still seems that Povetkin may not be ready to give it a go against either of them.
Women's pound for pound question has been answered: Anne Sophie Mathis posted a brutal knockout over Holly Holm Friday night.  The two fighters were considered the pound for pound best in the sport, and produced some great action.  Holm gave it her all, but was wiped out in the 7th round by a brutal flurry of haymakers from Mathis.  Holm stated that she would be interested in a rematch, but undefeated welterweight Cecelia Braekhus, who produced a TKO victory over Kuulei Kupihea Saturday, may be next in line for Mathis.