In the headline HBO bout Saturday evening from Atlantic City, Paul Williams returned to the ring for the first time since his vicious knockout loss against Sergio Martinez, and met hot-shot Cuban amateur Erislandy Lara. Which fighter has the brighter future right now in the junior middleweight division? Check out the Williams vs. Lara results below, as well as coverage from the undercard, including Rico Ramos vs. Akifumi Shimoda.
Williams vs. Lara Results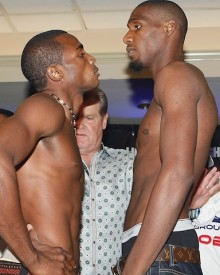 It's amazing how quickly some forget a fighter's skills, or deficiencies, based on one performance. Lara failed to impress in his last outing against Carlos Molina, so he was widely downplayed before stepping into the ring against Williams. Apparently his stellar amateur run in Cuba never occurred.
With Williams, the same problems he had over an entire career were brushed to the side when he overcame them to win. But on Saturday night, his tendencies to use offense for defense, hold his right hand down at his waist, and more, were simply too easily accessible for the talented, slick boxer Lara.
From the start of the bout Lara controlled the action. He utilized angles and his quicker hands, great timing and superior footwork to land first and avoid returning fire. Big left hand after big left hand landed with ease. By the end of the night, Roy Jones was pleading for the fight to be stopped and saying the fight was taking years off of Williams life (Yes, the same Roy Jones who keeps subjecting himself to KO losses right and left).
To his credit, Williams never stopped coming forward and never stopped throwing punches. However, he never made any tactical adjustments to try to improve or  change the circumstances of the bout, and worse, his corner never really offered him any. Bloodied and battered, and already entering the ring with the mindset that he would only fight a few more times before retiring, one wonders if Lara's fists beat Williams into retirement.
The reading of the judges' scorecards were nothing but a formality. Williams was a bloody mess, and he and his corner were sullen in the ring. His corner had been calling for a knockout from the 9th round on. Lara won at least 9, maybe even 10 rounds. Or so we thought.
Scores came in of 114-114, 115-114 and 116-114, for a Majority Decision win for… Paul Williams! Seriously. No, really, Paul Williams won the fight. Now Roy Jones was left to cry "this feels like Seoul, Korea all over again" and wonder "how could you do this to a guy?"
This was a seriously terrible decision, and an awful end to what should have been the breakout win of Erislandy Lara's career. The world of boxing and judging in boxing continues to mystify. People ringside, including the HBO announcing team, were clamoring for the fight to be stopped, so Williams didn't end up badly hurt. And he won. Whoa.
All of the sudden, the junior middleweight division is bursting with talent and exciting fighters. Erislandy Lara, Carlos Molina, Saul Alvarez, Pawel Wolak and more are all lighting up the scene, and there is a load of great fights to make in the future. For Williams, indeed it may be time to hang up the gloves. (That's what had been written before the ridiculous verdict came in. Now we can be assured of Williams being in more lucrative fights in the future, and he's calling vigorously for a rubber match with Sergio Martinez. Hopefully Lara won't be held back by the "loss" here.)
Rico Ramos vs. Akifumi Shimoda Results
Undefeated prospect Rico Ramos got his first chance at a world title when he met champion Akifumi Shimoda in the co-feature HBO bout of the night. Ramos was looking to make his entrance to the big stage, and Shimoda was looking to legitimize his title and become a force in his own right.
For those who have seen Ramos fight before, and weren't overly impressed, the general impression was that he was content to spent a lot more time not being hit, as opposed to doing the hitting. Against Shimoda, in the early going that seemed to be the case, but after several rounds, styles and sensibility seemed to be less the issue, and instead a gap in skill seemingly came to the forefront.
But things can change quickly in the boxing ring. Ramos was patient in setting up some of his big power shots, and in Round 7, after throwing a few 1-2's and tagging Shimoda, getting him off-balance, Ramos launched a surprise, quick left hook that landed flush on Shimoda's unguarded chin, sending him down sprawling to the canvas and giving Ramos the KO win, and a shiny new world title belt, the WBA 122 lb strap.
Also be sure to check out our Rios vs. Antillon & Cintron vs. Molina results from Saturday night. The two cards are crossed, since Cintron and Williams met last year with plenty of controversy, and Molina and Lara met a few months ago and fought to a draw. Keep on coming back to ProBoxing-Fans.com for all of the latest boxing news, results and more.