Haye vs. Fury Fight Preview:
The big, exciting, upcoming heavyweight fight isn't Pulev vs. Thompson or even Klitschko vs. Povetkin. Instead, the bout that has real fan interest is the all-Briton clash in Manchester on September 28 between David Haye and Tyson Fury. The winner of this clash will challenge Dr. Steelhammer for the World Heavyweight Title, buy what makes this fight the most exciting of the three are the boxers themselves. Fury and Haye have personality, and they (usually) like to fight. Add into that the British bragging rights angle, and you have what promises to be the most action-packed big man's bout of the year.
Many are picking Fury, based largely on the logic that a good big man beats a good little man every time. The logic is sound, but prone to error because of flawed assessments in just how good the big guy and the little guy really are. Such is the case with favoring Fury. In my opinion, the "Fury will win" line either overrates Fury or underrates Haye. Here are five reasons Haye will win this fight:
1. Haye Isn't That Small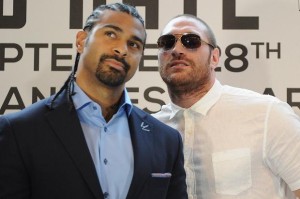 One of the gravest misunderstandings about the Hayemaker is that he is a "small heavyweight," based in large part because he came up from the cruiserweight ranks. But Haye is really a mid-sized heavyweight, and I can prove it in two points.
First, just look at Haye in his fights with John Ruiz and Dereck Chisora. No one has ever called those two guys anything but mid-sized heavyweights, and Haye looked perfectly normal standing next to them. He's 6'3″ tall, weighs in around 220 lbs (a very fit, solid 220 at that), and that is weight he didn't need to bulk up and eat like crazy to achieve.
Second, cruisers aren't as small as they used to be. Compare Haye to history's only other Undisputed World Cruiserweight Champion, Evander Holyfield. When The Real Deal was a cruiser, the weight limit was 190 lbs. In Haye's day, the limit was up to 200 lbs. Holyfield had to pump iron and eat his way up to 215 lbs, because his natural combat weight was about 205 lbs. David Haye more or less just had to stop trying to make weight as a cruiser to become a real, mid-sized heavyweight.
Eddie Chambers and Tomasz Adamek are small heavyweights. David Haye is not.
2. Tyson Fury Isn't Wladimir Klitschko
Tyson Fury is undeniably a big heavyweight, but he doesn't fight like a guy who has huge natural advantages in height and reach against most opponents. Fury's style is not to jab and box, but to grind opponents down with clubbing punches pitched at medium range. While his boxing skills are admittedly underrated to a degree, sticking and moving is not his preferred method of combat, not by a mile. He has a good jab, but indifferent feet.
So, saying Fury will do to Haye with Klitschko did to Haye puts too much emphasis on size, and none whatsoever on style and technique. That in turn means that Haye can get to Fury, and won't be held at bay all night.
3. Haye Has A Plan For Big Guys
People who favor Fury seem to forget Haye managed to eek out a decision over an even bigger and more ponderous heavyweight in Nikolai Valuev. Like Fury, Valuev likes to grind his opponents down with thudding blows; unlike Fury, Valuev preferred to do it from a distance, and was very practiced at doing so. Haye used a combination of hand speed and footwork to partially offset those advantages and score.
Fury is clearly a better athlete than Valuev, but don't forget Valuev was even bigger and preferred to fight at long range. We already know working from range isn't Fury's chosen style, but if he should try to go that route, Haye has an answer and has won with it before.
4. Haye Can Crack Fury's Chin
In this fight, Haye is the puncher. Fury knocks opponents out with an accumulation of heavy-handed punches. Haye, on the other hand, is the one who really cracks, and Fury has a merely average chin.
Two points stand out for consideration here. First, Fury was floored by Steve Cunningham in his last outing, an ex-cruiser who, unlike Haye, really is a small heavyweight. Cunningham wasn't a puncher even at cruiserweight, and yet there was Fury with his bell rung. To his credit, Fury got up, came back, and carried on, but it doesn't change facts.
The other point illustrates the difference between Haye's kind of power and Fury's kind of power, and how the two men apply it. Fury pounded his way to a points win over Dereck Chisora; Haye blasted Del Boy in a shoot-out for a TKO5 victory.
Fury will need time to hurt Haye, while Haye can start trying to take Fury out as soon as he reaches Fury's chin. As I've already shown, Haye can and will get there.
5. Haye Has Better Stamina
Let's say this fight does turn into the kind of battle of attrition Fury likes. Given that Fury will take damage in turn, who is better able to weather all the hurt?
Until recently, Tyson Fury was routinely criticized for showing up on fight night overweight and under-prepared. Fury has turned that around, but to achieve true peak performance, a boxer needs to take excellent care of himself in and out of training camp for years. Tyson Fury hasn't done that, and I think it is a flat out fact that he is not the best he can be yet. David Haye, on the other hand, is always in excellent shape. You never see him packing extra poundage at any time, in camp or out.
Neither man sees the final bell of a fight often, but Haye has seen it getting roughed up by a giant heavyweight before. We know he has the stuff to stand with a man of Fury's talents for 12 rounds. Fury, on the other hand, has somewhat questionable stamina and has never been pushed by a much faster, harder hitting, aggressive opponent before. Fury is not in the best position to see even his own preferred game plan through.
Comments
comments