50 Cent has already brought in a huge haul for his upstart promotional company, TMT Promotions. According to this report from Fight Hype, 50 Cent has signed Andre Berto, Zab Judah and Celestino Caballero. Those three fighters are added to a roster which includes, of course, Floyd Mayweather, along with Yuriorkis Gamboa, Andre Dirrell and Billy Dib. It's another sign that 50 Cent isn't taking this new venture lightly, and TMT Promotions plans to make an immediate splash in the boxing world as soon as possible.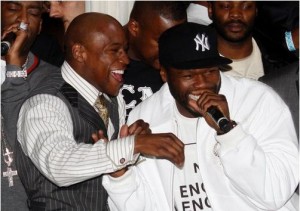 The timing of this shouldn't be viewed as a coincidence, either. Mayweather is due to get out of jail in less than three days. Once he's back in the public eye, you can be sure that he'll have plenty to say about TMT Promotions, 50 Cent and all the rest. Hopefully this all means that news will quickly develop in terms of who and when he'll be fighting next.
Berto could be a potential Welterweight fight for Mayweather, or Berto and Judah could be paired against one another. Judah though is most comfortable at Junior Welterweight, and is in line to challenge Danny Garcia for his titles.
Billy Dib seems out of place with the rest of the group (besides the fact that his nickname is The Kid, and 50 Cent has been known to call himself The Kid…) which is largely urban-American focused. However, he's a Featherweight titleholder, and Yuriorkis Gamboa and Celestino Caballero are there as well. So there could be a round robin of sorts in the works to help unify that division.
Be sure to keep on checking back with us over the next few days for more boxing news and updates concerning 50 Cent, TMT Promotions, and Floyd Mayweather's impending release from jail.