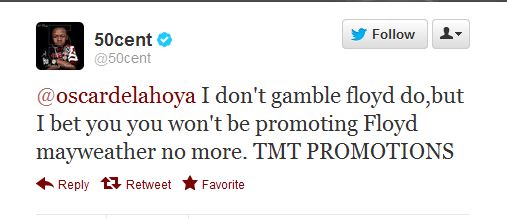 We've already mentioned 50 Cent's new boxing promotional outlet, TMT Promotions, which is short for The Money Team. With his move towards becoming a promoter, his close ties with Mayweather, and the sheer fact that the name Money Team is what Mayweather and his crew are known as, it was pretty clear that Mayweather would likely be working with 50 when he heads back into the squared circle. Well, apparently Golden Boy Promotions and Oscar De La Hoya aren't too fond of that idea. 50 Cent and Oscar De La Hoya got into a back and forth Twitter war, throwing some insults at one another and talking some trash. Take a look.
A lot of the Tweets in question between 50 Cent and Oscar De La Hoya have already been deleted. But here's what we still have.
On Tuesday night, Oscar De La Hoya said: "Everyone wanting to be a boxing promoter? Good luck. Easier said then done."
50 Cent responded with several messages:
@oscardelahoya I don't gamble floyd do,but I bet you you won't be promoting Floyd mayweather no more. TMT PROMOTIONS

Great back pedal,can you swim backwards like that to girl?lol I except that as a apology.#GBB #TMT more success a head.

ClassicRT @OscarDeLaHoya: @50cent your a boxing promoter?good luck maybe we can work someday. #success #nextgeneration #GBB #TMT
Right here, you can find screen shots of all of the Tweets between 50 Cent and Oscar De La Hoya, as well as a few extra Tweets from 50 as he talks about Yuriorkis Gamboa:
—-> Check out our special photo gallery: The Flashy Lifestyle of Floyd Mayweather
So we have De La Hoya taking a shot at 50 Cent for trying to be a boxing promoter. We have 50 Cent calling De La Hoya girl, and baby girl, and betting him that he won't be promoting Mayweather anymore. And apparently, after each side deleted some messages, De La Hoya said something along the lines of – oh, you're a promoter? We can work together in the future… which 50 Cent thought was hilarious given what previously transpired.
Even locked away in a small Las Vegas jail cell, Floyd Mayweather is still dominating the headlines of the boxing world. It's clear, as we earlier projected, that he'll be working with 50 Cent and the aptly named TMT Promotions.
And with 50 Cent involved in boxing, things will be plenty interesting over the coming months and years, that much is certain. This 50 Cent vs. De La Hoya Twitter feud is surely just a small sneak preview.