First-ranked and WBC lightweight champ Adrien "The Problem" Broner will face former WBA junior welterweight titlist Gavin "The Rock" Rees at Boardwalk Hall in Atlantic City, New Jersey, on February 16.  Also on the card will be a rematch between heavies Johnathon Banks and Seth Mitchell.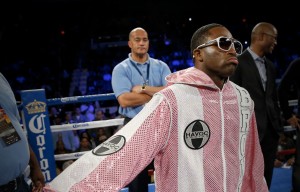 Remarkable that Broner, 23 (25-0-0, 21 KOs), has been a pro only four years.  Already on the pound-for-pound list, at number 13, the aptly nicknamed "Problem" fought three times this year, defeating Eloy Perez by fourth-round TKO in February and Vicente Escobedo by fifth-round TKO in July, and took the WBC strap from Antonio DeMarco via eighth-round TKO in November in his debut as lightweight — the Breakout Performance of the Year.
Fans are eager for "The Problem" to come up in weight yet again in order to face second-ranked and WBA and WBC junior welterweight champ Danny Garcia or fourth-ranked and former WBA lightweight champ Brandon Rios.  Neither match is likely.  Broner is promoted by Golden Boy, while Rios is with Top Rank — and those twain don't meet.  Garcia is with Golden Boy, all right, but both he and Broner are managed by Al Haymon, who's unlikely to give the nod to two of his guys going at it.
A prizefighter since 1998, 32-year-old Rees (37-1-1, 18 KOs) had two fights in 2012, taking out Anthony Mezaache by seventh-round TKO in March and Derry Mathews by ninth-round TKO in July.  Rees drew against Mathews in 2011.
The Welshman's only loss came against Andriy Kotelnyk via 12th-round TKO in 2008.  The defeat cost him the WBA strap he'd won the year before from Souleymane M'baye.
Rees had been scheduled to fight John Murray in early December, but Murray failed his medical.  Although not slated, there was talk that Broner would take on fourth-ranked and WBO lightweight champ Ricky Burns, which is likely to happen down the road…assuming Broner takes down Rees.  And that is indeed likely, despite the Welshman's hopeful "Time for me to become a two-weight world champ."
Rees isn't called "The Rock" because of his craggy good looks, but because he's durable and able to sustain a fight.  Paradoxical as it sounds, he reminds me of nothing so much as fluid granite.  Unlike his February opponent, however, Rees isn't a power puncher.  Fewer than half his wins have been by stoppage — he has a KO record of only 46%, while Broner's is 84%…and upon Broner's gloved fist is spelled Rees' doom.
Expect Broner to claim his 26th win and 22nd stoppage around the seventh.