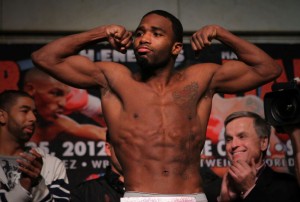 I thought Adrien Broner deserved the split decision he got against WBA Welterweight beltholder Paulie Malignaggi on Saturday. Broner did the far more hurtful damage. The bigger question that lurks following Broner's win is whether he is primed to be at the top.
The victory leaves room for interpretation. Broner certainly looks and acts the part. He is undoubtedly talented and at 23, there is a lot of upside. We might want to hold off before nominating him as the heir-apparent.
Yet against Malignaggi, he coasted. Meanwhile, Malignaggi fought like a possessed maniac in a dogfight. One couldn't help but wonder how Broner would look against a guy whose punches were actually thrown with hurtful intent. It's just that there are a few signs that are disturbing and difficult to ignore in light of Broner already being named the future PFP king.
Before I get too carried away in being skeptical of Broner's future prospects in the big picture, he is only 23 years old. In addition, he jumped up two weight classes, so expecting excellence the first time out in a new division is perhaps out-of-line. Broner seemed more concerned in his showmanship, indicating to Paulie that he wasn't hurting him–about 50 times per round. It could be a case of Broner only fighting as hard as he needed to, rather than as good as he possibly can. Against a more-threatening foe, one should expect Broner to eschew the histrionics and opt for a more workmanlike approach.
That doesn't mean there aren't disturbing signs. By showboating and letting Malignaggi outwork him in many rounds, especially in the first half of the fight–Broner showed a poor vision of the fight. He didn't expend full energy and left a close fight fall into the hands of the judges. He may have felt he was dominating the fight, but he ended up severely-close to not even winning, with a single judge one round away from it being a draw.
He's not really a superstar yet, but he acted like one–doing just enough to skate by. At this point in his career, a more emphatic conclusion would have seemed more suitable. With Malignaggi scratching and clawing just to stay in the fight, it created a visually-jarring dichotomy, with Broner doing "just enough" to get by. While it made it look like he was the man in charge, he didn't do enough actual work. Talent and youth-wise, Broner was probably good enough to either win a dominant decision or a late-round TKO. Instead, he won a narrow split decision. When a fighter is better than his results indicate, that's a bad sign. He better cut that stuff out as he faces better opposition.
And why do I feel like I'm watching pro wrestling with Broner aligning himself with Floyd? They're all buddy-buddy now and you can almost sense the build-up, like they're going to stage a parting of the ways, which will lead up to a fight. I could be wrong, but it feels like we're all being taken for a ride with this storyline. There is something disingenuous about it, like they're trying to make jerks out of us.
Broner is only 23. Let's be patient with what he's doing inside the ring, even if his act outside of it has already grown tiresome–with the hair-brushing, the smirking during the fight, and the contrived persona he's attempting to cultivate. It's hard to think of a fighter who made it really big while being so derivative of his predecessor. Broner better be careful or he'll unwittingly wallow forever in the huge shadow cast by Floyd.
Not to dwell on the past, but I was sure he had lost to Ponce De Leon, granted I was watching that fight from the nose-bleed seats. Against Malignaggi, he appeared to have the engine necessary to blow Paulie off the track, but he just nosed him at the line. I don't remember Floyd struggling in that vein in his early-20's and he was actually fighting tougher guys than De Leon and Malignaggi. Then again, there was the first Castillo fight, so maybe I'm being too hard on him. All superstars have a few fights on their record where they were sub-par or got the benefit of the doubt from the judges.
It just seems like a lot of people are projecting things on Broner before the receipts are in. While he's beaten some good fighters for a 23-year old, he has never topped a prime top fighter. And if he's going to do that, he better worry more about punching and less about twisting his face up making mocking and dismissive facial expressions. It's just hard to get behind a fighter who doesn't fight as well as he can on a regular basis. Now is the time in his career where he needs to allow his talents to bloom in the ring.
Don't take us wrong. We like what we see. This sport needs more attractions and Broner is becoming a star. Great. Let's just make sure he's the goods before we put the sport on his back and take too much of a vested interest in the guy.