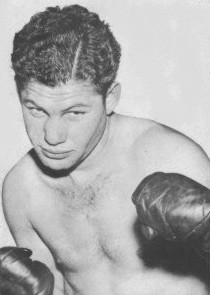 Enshrined in the pantheon of immortal Jewish boxers — along with Abe Attell, Ted "Kid" Lewis, Benny Leonard, Barney Ross, "Slapsie Maxie" Rosenbloom, and a host of others — is Al "Bummy" Davis.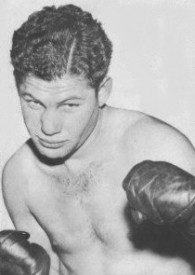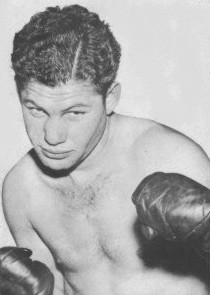 This past Wednesday, November 21, marked the 67th anniversary of the death of Al "Bummy" Davis.  He was sitting in a Brownsville bar, which he had previously owned, when four armed robbers walked in.
Davis knocked one of them down. After being shot three times, he ran after the others, only to receive a fourth and mortal wound.  He was just 25 years old.
If it can be said of any boxer that he went down fighting, it must surely be said of Al "Bummy" Davis.
Real name Albert Abraham Davidoff, theories abound how Davis came by "Bummy".  According to the initial, and hence most reliable, sources, he was originally called Vroomeleh, a diminutive version of Avrum (Abraham).  Vroomeleh became Vroomy, then Boomy, and finally Bummy.
Davis disliked his moniker, but was convinced to adopt it because it sounded tough.  Given that Attell's ring name was "The Little Hebrew", Davis should have considered himself lucky.
[Also See: Top 10 Jewish boxers of the past 40 years]
Davis (65-10-4, 46 KOs) fought at different weight levels, but is best remembered as a welter.  His career lasted less than a decade, from 1937 to 1945, and with the exception of two draws, Davis won his first 37 bouts, in just two years, 22 by KO or TKO.
One of these victories was over Tony Canzoneri — number 12 on Bert Sugar's list of all-time greatest boxers.  Davis stopped him by TKO in the third round of their 1939 match — the first time Canzoneri had been knocked out and the final bout of his illustrious career.
A month after his defeat of Canzoneri, Davis kayoed light welterweight Tippy Larkin in the fifth.  Larkin was yet another formidable opponent.  "The Garfield Gunner" boasted a remarkable record of 137-15 (60 KOs), averaging nine fights per year over a 17-year career.
In 1944, Davis knocked out lightweight Bob Montgomery in the first round — the fastest KO at a Madison Square Garden main event since its opening 19 years earlier.
Davis' first loss came at the hands of Lou Ambers in 1940. Indeed, Davis' losses tended to be at the hands of luminaries. He was beaten by Fritzie Zivic twice, in 1940 and 1941; by light middleweight Al Tribuani twice, in May and June 1943; by lightweight Beau Jack in 1944; by Henry Armstrong in 1944; and, in his second-to-last fight, by middleweight Rocky Graziano in 1945.
Amazingly, he was stopped only three times — by Zivic via 10th-round TKO in their second bout; by Armstrong via second-round TKO; and by Graziano via fourth-round TKO.
One of Davis' more entertaining fights was his 1940 bout with Zivic.  An outstanding fighter, renowned for his flexible interpretation of the Marquess of Queensberry Rules, Zivic thumbed Davis' eyes in the second round.  Irked, to say the least, Davis unloaded a barrage of low blows before being disqualified.
He expressed his displeasure by kicking the referee, and then sought to resume his battle with Zivic (or at least beat him up).  He had to be physically restrained.  What's most deplorable about the incident is that I wasn't there to enjoy it.
Born and raised in the predominantly Jewish, and tough, neighborhood of Brownsville, Brooklyn, Davis focused on boxing, never became a mobster, and stood up to Murder, Inc. alumnus Abe "Kid Twist" Reles.
Davis was inducted into the National Jewish Sports Hall of Fame and Museum earlier this year, though he has yet to be so honored by the International Jewish Sports Hall of Fame or by the International Boxing Hall of Fame.