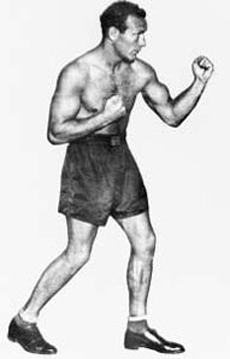 Too many fans know Maxie Rosenbloom, if they remember him at all, as some ex-pug who made guest appearances on 1960s television as either punch-drunk or just plain drunk.  I myself fondly remember him from an episode of The Munsters as Big Louie, "some monster of a guy, who acts kind of punchy."
But Rosenbloom was considerably more than a recurring TV character of modest comedic appeal — he had been Light Heavyweight Champion of the World.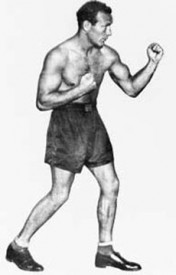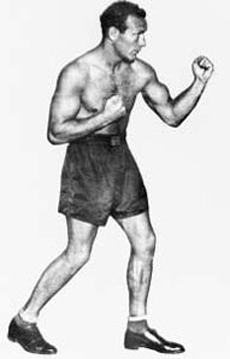 Rosenbloom fought a remarkable 272 times — 207-39-26, 19 KOs.  Note the proportionately insignificant number of knockouts.  Little girls have done more damage in pillow fights than Rosenbloom did with his fists.  But what he lacked in hitting power, he more than made up for in ring cleverness.
A pro from 1923 to 1939, Rosenbloom fought, and almost always beat, the best light heavies and heavies of his day.  The list, a veritable Who's Who, features Lou Scozza, Tiger Flowers, Ted "Kid" Lewis, future heavyweight champ James Braddock, John Henry Lewis, Mickey Walker, Lou Nova, Bob Pastor, and Al Ettore.
Rosenbloom's open-glove style got him the nickname "Slapsie Maxie" from the equally colorful Damon Runyon.  It was a style that worked, gaining for him the title of Light Heavyweight Champion of the World when he defeated Jimmy Slattery in June 1930.
He lost the title to Bob Olin in November 1934 (the last time two Jewish fighters vied for a world title).  In that four-and-a-half-year period, Slapsie Maxie fought more than 100 bouts — the extraordinary equivalent of at least two fights a month.  Put another way, in the same span of time in which Floyd Mayweather Jr. has had one fight, Rosenbloom would have had at least 24, and probably closer to 30.  Just sayin'.
Along with Benny Leonard and Barney Ross, Slapsie Maxie participated in a heyday of Jewish boxing, when the sport was in some ways dominated by Jewish fighters at or near their primes, a far cry from today's near complete lack of top tier Jewish boxers.  And he took his Judaism seriously.
Scheduled to fight Tiger Jack Fox between Rosh Hashanah and Yom Kippur, he postponed the bout until after the Jewish holidays.  Many Jews still regard him as a hero.  As author Philip Roth observed:  "In my scheme of things, Slapsie Maxie was a more miraculous Jewish phenomenon by far than Dr. Albert Einstein." Rosenbloom was inducted into the International Jewish Sports Hall of fame in 1984.  He was inducted into the International Boxing Hall of Fame nine years later.
In the original version of Rod Serling's Requiem for a Heavyweight (1956), Rosenbloom gives a poignant performance as a punch-drunk palooka in a shabby bar, sharing his boxing triumphs (real or wished for) with all within earshot.  In real life, though, Slapsie Maxie didn't die of dementia pugilistica (which is not to say he didn't suffer from it).  Like fellow boxer Clarence Burman, he passed away as the result of Paget's disease.  He died in 1976 at the age of 68.
He probably hasn't been brought to mind much since then, but at least he's been mentioned lately.  The matches that took place this past Saturday, October 20, in Brooklyn were the first in that New York City borough in 81 years — the first since, at Ebbet's Field on August 5, 1931, Rosenbloom retained his title by a win over Slattery.
Maxie Rosenbloom was far more than a foil for Herman Munster.  He had been Light Heavyweight Champion of the World, and a damned impressive one, and while perhaps not quite in the same league as Archie Moore or Billy Conn, Rosenbloom could easily make a case to be on any fan's list of top 10 light heavies of all time.  Yeah, he was that good.