Floyd Mayweather vs. Robert Guerrero All Access
On Wednesday night on Showtime, the first episode of All Access Mayweather vs. Guerrero made its debut. This is the beginning of a multi-part series leading up to the May Day: Floyd Mayweather vs. Robert Guerrero bout, which will be telecast on Showtime Pay-Per-View. Right here, we'll provide you with the full Mayweather vs. Guerrero All Access episode 1 recap. Take a look.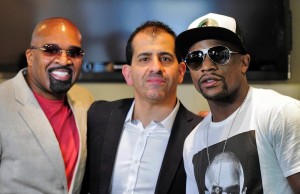 We start, where else, with a one-on-one with Floyd Mayweather in his favorite spot, right in front of the camera. He begins by saying, "What I do is not reality TV… what I'm going to give you… is raw and uncut."
Then the narration of Common comes in, and you gotta love his voice. We get a brief background of each man and where they have been lately in his career and in his life. We hear Guerrero say,  "We got the biggest athlete in the world, the highest paid, acting a fool."
[Also See: Mayweather vs. Guerrero preview & prediction]
Mayweather says there's no blueprint to beat him, but there is a blueprint to beat Guerrero. We see a montage of each man in training camp, hanging out, saying some choice words, and All Access begins in earnest.
All Access Mayweather vs. Guerrero episode 1 then takes us to Mayweather's arrival via jet into freezing, snowy Detroit, where he took part in promoting the Bundrage vs. Smith bout. Mayweather takes us around a tour of Grand Rapids, and he hasn't been back in 5 years. We see the first gym he trained in, his grandmother's house, his old neighborhood, and more.
Mayweather talks about his time in jail, being locked away in a box. He says it made him appreciate his family, and we see his grandmother, and he says she's the real fighter in the family, and gives praise to her for everything she has done. It's Mayweather's birthday, and he celebrates with family and friends, and gives his thanks to those who have been there for him.
Mayweather vs. Guerrero All Access Episode 2 Preview Video
Now Mayweather vs. Guerrero All Access episode 1 switches to Guerrero. Conveniently enough, Guerrero is described as gun-toting. Guerrero is from Gilroy, and he loves it there. It's a family business with his father training him, and they have a great partnership. We hear Guerrero's claim of six titles in four weight classes, but while his credentials are impressive, we know that's not quite the way the math adds up.
There's no entourage and craziness here though, it's all business. Guerrero calls him "an obnoxious creep", but boxing should be a gentlemen's sport. He doesn't need 50 people around him shouting "hard work dedication", he just does hard work and dedicates himself.
It's now eight weeks until the fight, and the two are on hand filming their promo commercial. Floyd is late, and Guerrero's not very surprised about. Mayweather apologizes for being late, but says he can't promise he won't be late again, but when he does come, he'll have an arsenal of entertainment — cue flashy smile.
The two of course view their confrontation very different. Guerrero says Mayweather can't intimidate him or get under his skin, Mayweather thinks that's exactly what he did do. Adrien Broner is on hand, feigning anger at Floyd for stealing his "easy work" by fighting Guerrero.
Now we're in Las Vegas at the Mayweather Boxing Club. All the usual suspects are there, Uncle Roger, Leonard Ellerbe, and the venerable Rafael Garcia. The new face, so to speak, is Floyd Mayweather Sr. Mayweather says "it's not a good thing, it's a great thing". He says he's a team with his father again, and if it explodes, well, it's family, what can you do.
Everyone chimes in, Mayweather Sr. gives his thoughts, Roger gives his thoughts, they all seem copacetic with the situation. We all know that won't last, but it's the way it is right now.
Back to Team Guerrero, he's talking about meeting his wife when he was 14. Now they've been together for 14 years. We see a hilarious/cool photo of the two together as young teenagers.
Now it's time to discuss Casey's battle with Leukemia. It's not a new story, but it's one that's always worth hearing about. We see footage of Guerrero's next fight, just a week after Casey's diagnosis, and he scores a brutal, quick knockout victory. Then it was time for the far tougher fight for Casey and Robert and the rest of their family. We hear all about Casey's intensive medication routine, and how you take one pill for one thing, then take a pill to deal with the side effects of that, and another to deal with that, and on down the line.
Guerrero is readying to embark on a media tour. He visits his children's school and gets greeted by a raucous crowd of children from the school wishing him well.
Back to Vegas, and Mayweather is taking his daughter to a 12 am movie. Of course, he doesn't just go to the movies, he rents out the entire theater and the two kick back and enjoy the film in complete privacy and luxury.
Mayweather certainly indulges in luxury, and he loves his toys. He talks about how he works hard, but he plays hard. He's the one who has done it all, done the training, dedicated himself, taken the bruises and the blood and everything else, so he enjoys himself, and he wants to sit on his throne.
Guerrero's media tour goes underway, as he hits up Christian talk shows and talks about how he has the opportunity to inspire people and potentially reach millions of lives. While he's doing talk shows, Mayweather is working hard in the gym. Apparently there was some issues as Guerrero is the only one doing interviews and press, while Floyd isn't, and Mayweather talks about how he needs to go out there and prove to people why he deserves the fight.
Guerrero seems pretty worn down by the whole ordeal. Then the incident happens, and Guerrero's arrest occurs. Common narrates an overview of the story, and we've already heard Guerrero's statement. And with that, All Access: Mayweather vs. Guerrero episode 1 comes to an end.
Comments
comments