Allan Green is in the tapering -down stage of training camp now, with less than 9 days before his World Boxing Association (WBA) title bout with Andre Ward he's very confident about his training camp and preparation for his title fight.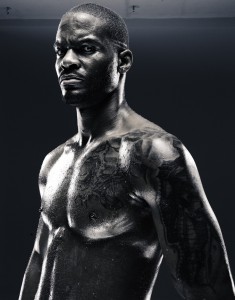 The Super Six World Boxing Classic Group Stage 2 matchup featuring Andre Ward vs. Allan Green is being co-promoted by Goossen Tutor Promotions and DiBella Entertainment and will air live on SHOWTIME® Saturday, June 19 at 10:00 pm ET/PT (delayed on the west coast) from the Oracle Arena in Oakland, Calif. Tickets for the June 19 Super Six World Boxing Classic are priced at $300, $150, $65 and $35 and are available at the Oracle Arena Box Office by calling (510) 569-2121 or online through Ticketmaster www.Ticketmaster.com.
7 Week Training Camp:
For most fighters a normal training camp can last anywhere from 6-8 weeks at a remote training facility far from home to limit distractions. But for Allan Green that has not always been the situation. Most of the time he has taken fights on late notice anywhere from 3-4 weeks, which means he always had to be ready and stay in some kind of shape. For his upcoming fight with Andre Ward he's had 7 weeks to concentrate, prepared and focus on one fight and it has made a huge difference.
"It was very frustrating having to take fights on short notice," said Green. "I had to take a fight once on 10 days notice and my last fight in October against Tarvis Simms was approximately a 4 week training camp. Taking fights on short notice you have to worry about making weight, conditioning and sparring sessions. When you have those concerns it doesn't allow you much time to work on strategy. This training camp has been great for me and my team. It's made a huge difference with my attitude having a full 7 weeks to prepare myself. I'm like a kid in the candy store because I know mentally and physically I'm prepared to do battle with Andre Ward."

Going The Distance:

Allan Green doesn't want his fight with Andre Ward to even go the maximum 12 rounds, he wants to knock out Ward much earlier. Still, for Green, it's nice to know he can go 14 rounds if necessary.
Trainer John David Jackson has put Green through a very intense training camp and is very pleased with Green's conditioning and mental approach for his first title fight.
"Last week Allan did 14 rounds with ease," said Jackson. "He's in excellent shape. Allan is peaking at just the right time. The sparring sessions have been very intense. He's finishing real strong with the mitts and there is a good snap on his punches. But what I like most with Allan is the way he's approaching the fight. He comes to the gym everyday with the attitude it's fight night. This camp is very confident about victory."
And how does Allan feel about going the distance.
"Preparation is the key word," says Green. "I know I have the power to knock Andre Ward out, but I'm not looking for a one punch knockout with him. If he opens himself up for a knockout, I'm going to take it. He's a very clever fighter and a hard fighter to catch with a knockout punch. I'm going to fight a smart fight. My training and conditioning has prepared me to go 12 rounds if I have to go the distance."
Training Camp Off Days:
Training camp off days for a fighter are very important, it gives his body a chance to rest and allows him to relax. Off days can also tell you a lot more of what a fighter is like when he's away from the gym.
"On my off days I spend a lot of time talking with my kids on the phone and I read a lot of books on different subjects," says Green. "I guess you could say I'm a avid reader. Subjects that are of interest to me are world history, science, religion, biography and the human body. Reading books are a way of relaxing for me."

Comic books and studying boxing history.
"One of my favorite hobbies is collecting comic books and studying boxing history," said Green. "I must have about 500 comic books in my library and I eat, sleep and drink boxing. I'm a student of boxing history. I enjoy studying films of old time fighters such as Jack Johnson, Jack Dempsey, Sam Langford, Jersey Joe Walcott, Joe Louis, Willie Pep, Henry Armstrong and "Sugar" Ray Robinson, just to name a few."
And who is Green's favorite comic book hero and favorite boxer.
"My favorite comic book hero is Thor and "Sugar" Ray Robinson for boxing," says Green. If you want to learn anything about how to box, just look at some of Robinson tapes. He was the complete package."