Opening Quotes & Official Announcement: Peterson vs. Khan II Finalized
The anticipated Amir Khan vs. Lamont Peterson rematch is officially a done deal. The fight will be held in May 19th, in Las Vegas, at the Mandalay Bay, and will be for Peterson's IBF & WBA junior welterweight titles. It brings to a close a long period of rumors, negotiations, back-and-forth complaints, seemingly endless controversy, and much more. But the two sides were finally able to hash it all out, and boxing fans will be able to witness a rematch of a very exciting and intriguing encounter which took place in Washington D.C. last December.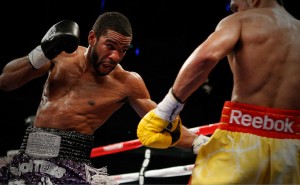 In that fight, Lamont Peterson weathered an early storm from Khan and was able to put in some fantastic body work. He apparently had the support not only of his hometown crowd, but of some hometown cooking as well, as Amir Khan was deducted two points, and the scorecards came up in Peterson's favor, whereas many felt Khan deserved the nod even if the deductions were legit.
Khan's camp protested the verdict officially, and then won one of the protests to the sanctioning bodies, while dropping the other. There was controversy over a mysterious man, later identified, who was handling the scorecards, as well as the overall officiating and judging of the bout. It mostly seemed to be sour grapes – especially considering that Peterson and his team would have been willing to do a rematch anyway, if the price was right.
So it was that, team Peterson turned down a $1 million offer for this fight according to Dan Rafael of ESPN, and now will be getting paid an undisclosed figure well above that mark. He earned a career-high $650k for his first fight against Khan. The location of the fight also was a contentious point, but it's finally all wrapped up.
Khan is looking at his rematch against Peterson as unfinished business at junior welterweight before moving up to the welterweight division and seeking out the mega-fights he's been clamoring for. Peterson wants to justify his performance, hold onto those titles, and keep the good times rolling at 140 lbs.
We'll see how it all shakes out in May when Amir Khan and Lamont Peterson meet in the ring once again.
Opening Fighter Quotes for Peterson-Khan Rematch
Lamont Peterson:
"I feel really good about my decision. I went over every option available to me in terms of the fights that were on the table. I weighed each one of them looking at the pros and the cons and at the end of the day this is the one that made the most sense all the way across the board.
I want everyone to know that, as champion, it has always been up to me what fight to take next. I was not persuaded by any of the controversy or anything else. I just can't wait to fight. I told Khan after the press conference when I won that if it was up to me I would fight him on Sunday, but I had to get with my team to look at every option that was out there.
I just want to be clear that I never said I wouldn't fight him, but I wanted to take a look at everything that was out there before I made a decision. I'm happy with the terms of the fight. It's at a neutral site and, when I beat him this time, he won't have anything to complain about."
Amir Khan:
"I'm delighted that I have finally been given the chance to avenge the result of my last fight. It's clear I wasn't happy with what went on in the previous fight, but that takes nothing away from how Lamont Peterson fought.
He showed tremendous heart that night, but now I have the chance to prove once and for all that I'm the very best in the division. I'm going to take care of business inside the ring and this fight is going to be just as exciting as the last one. The only difference is going to be in the outcome."
"I said before their first fight that this was an opportunity to see the two best super lightweights in the world compete at the highest level of the sport and neither Amir Khan or Lamont Peterson disappointed the fans," said Richard Schaefer, CEO of Golden Boy Promotions. "To see them fight again so soon after their first match on neutral ground in Las Vegas is a treat for boxing fans around the world."
"We are pleased with the decision to fight Khan for the second time," said Barry Hunter, manager and trainer of Lamont Peterson. "I was extremely proud of Lamont with respect to this process. He took his time and looked at all of his options and he decided this was the best option available.   Our preparation for this fight will be the same, it is going to be a hard fight and we will be ready for the challenge."