The career of Amir Khan is something like a roller coaster. The 26-year-old Briton won a Silver at the Athens Olympics, making himself a sensation in the UK, but loudly denied any interest in turning pro. That didn't last long, and soon Khan started fighting for money, with plenty of promotional muscle behind him.
Things were looking good for Khan as he spent the first few years of his career climbing up the ladder, becoming Commonwealth Lightweight Champion in the process. Then in 2008 he was flattened by undefeated-but-unheralded journeyman Breidis Prescott. Admirably, Khan dusted himself off, came back, and got back on track. He shot to the top of the junior welterweight rankings, won some impressive fights, and while everyone suspected he had a weak jaw, it was also believed that he had found a way to box aggressively while protecting that weakness.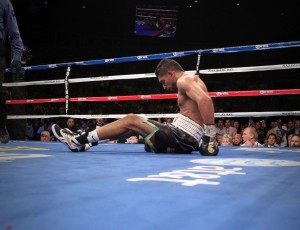 Even his December 2011 loss to Lamont Peterson didn't truly damage Khan's stock. It was a disputed, controversial Split Decision, and Peterson later came under a cloud of PED-abuse allegations.
Then came Khan's July 2012 clash with undefeated Danny Garcia, who beat Khan down to a TKO4 defeat. To some critics, it was Prescott all over again, and "King" Khan was exposed and finished.
Khan's Comeback Prospects
Contrary to what the professional hacks might say, losing to Danny Garcia does not a career coffin make, even by stoppage. Wladimir Klitschko was stopped by a journeyman once, and then again by two separate fringe contenders in his early-to-middle career. That didn't stop him from going on to become the dominant heavyweight champion, nor did the exact same "he's through" line of talk that emanated from some pundits back then.
Khan is only 26. He was not a protected fighter going into his fight with Garcia, and he has proven ability. More importantly, he has time. If his confidence remains intact, he can come back, and even come back to the top dog's spot in the junior welterweight division. That last point cuts to the core of the issue: the only reason Khan might be washed up is if he is psychologically so.
Re-building Khan's confidence is what his game is about right now. In December of last year, he stopped an undefeated-but-unheralded Carlos Molina. His next outing is in April, against fringe contender Julio Diaz, a 33 year old who is usually game, but whose only big fight win was knocking out a worn-down Jesus Chavez for the IBF Lightweight Title in 2007.
Ostensibly Khan will then face Danny Garcia in a rematch, and the winner of that fight will go on to face the victor of the Lamont Peterson vs. Lucas Matthysse clash. This also speaks to Khan's self-confidence. He is a tarnished, but still-marketable commodity. Khan can't brazen his way out of a rematch with Garcia the way he did with Prescott, but that doesn't mean he needed to come back and tackle him so soon. This is boxing, and Khan could get out of whatever contractual obligations he had, work on himself some more, and fight Garcia later. That he is not taking that route of least resistance says a lot.
Ultimately, the Garcia loss doesn't tell us anything about Khan that we didn't already know: he can't take a punch. However, this is the guy who managed to shield that weakness in fights with gritty technicians like Andriy Kotelnik and Zab Judah, as well as the awesome Argentine artillerist Marcos Maidana. Khan has his flaws, but they aren't necessarily fatal. Against Garcia and Peterson, Khan is certainly a live opponent; I'd be more worried about his prospects against the fierce Argentine puncher Lucas Matthysse.