Andre Ward told Boxing News magazine he thinks Carl Froch can stop Mikkel Kessler in their blockbuster super middleweight rematch at the O2 Arena on Saturday night.
Ward holds victories over both men but in a bumper preview issue of the weekly boxing magazine, the Oakland native – in London to commentate for HBO – believes that The Cobra has the edge over the Viking Warrior.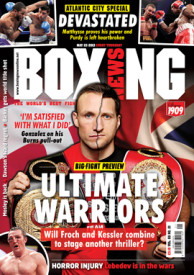 "Carl Froch has been in some tough fights but I think he has more in the tank," said Ward. "I think Kessler has kind of dipped a little bit since he and I fought, and even since he fought Froch the first time. Even though it's going to be a tough fight, it's going to be back and forth, I can't see Kessler winning this.
"Kessler's last two performances, he hasn't fought the best guys – a shopworn Allan Green then Brian Magee who's very tough but limited – and he's going to look good against them but I don't know if he has the same fire as when he fought Froch the first time. I would be shocked if Kessler got his hand raised. I think Froch wins and I wouldn't be surprised if Froch caught and stopped him."
Adonis Stevenson, previously the number one contender for Froch's IBF crown and challenging Chad Dawson on June 8 for the WBC light heavyweight belt, predicted a 115-113 points win for the Nottingham hero.
That's a verdict echoed by former Froch victim Glen Johnson, but the recently ousted WBO champ Arthur Abraham is edging towards Kessler to defeat Froch, and Boxing News editor Tris Dixon is expecting another great battle.
"Let's not see this as anything but what it actually is; a fight between two big punchers with granite chins, real quality, balls the size of the O2 dome and hearts that are filled with the hopes of their significant fanbases," said Dixon. "It's the biggest fight we are likely to see in Britain this year and this week's special edition of Boxing News reflects this as we have extensive interviews with both men, an in-depth preview, Joe Calzaghe's analysis and inside knowledge from the respective training camps."
In other Andre Ward news, he has relinquished his status and ties to the WBC, after being stripped of his belt and named "champion emeritus". Ward is certainly the quality of fighter who can say, "Screw the BS with the sanctioning bodies and all of their fees and their rules. I don't need them."
If more top fighters followed his lead and ditched the belts when they ticked 'em off, instead of doing everything they can to retain them, then we would be in a much better position in this sport right now.
Comments
comments