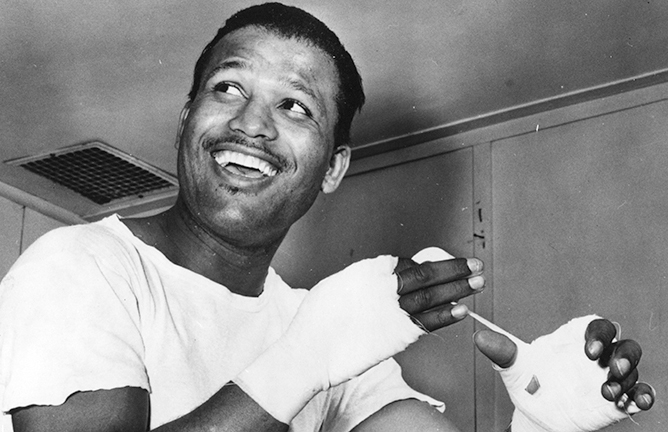 Hardest Punching Welterweight Boxers in History:
Some point to the middleweight division as the best balance between size and speed, between grace and power, but in my mind that balance has always been best represented by the welterweights. That balance is best displayed by the five fighters who follow, my Top 5 for the greatest 147-pound punchers in boxing history. These aren't just the guys who could clobber world class opponents with a single blow; these were the guys who looked good clobbering world class opponents with single blow.
1. Sugar Ray Robinson (108 KOs, Kayo Percentage: 62%)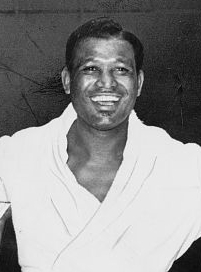 Arguably the greatest fighter of all-time, Robinson was the picture-definition of technique applying power. I think it would be impossible to find a better example of how to use space, timing, balance, and leverage in a boxing match. At 147 lbs, Robinson was absolutely lethal, and frankly the only reason his Kayo Percentage isn't well above 80% is because he spent most of his career at middleweight. At welterweight, so few fighters could challenge him that he was often found duking it out with bigger guys while still chasing the Welterweight Title, giving away as much as 15 lbs.
2. Felix Trinidad (35 KOs, Kayo Percentage: 82%)
In the minds of some, the end of Tito's career colors his legacy, but it's important to remember that he ran into serious trouble only after moving up in weight. Right up until his last 147-pound fight with Oscar de la Hoya, Felix Trinidad was the knockout artist who had smashed his way through a host of welterweight contenders. Consider this: during Trinidad's welterweight reign, he stopped or knocked out every opponent but two, both of whom were skilled defensive technicians who retreated into their shells and rode the storm out to survival: Hector Camacho and Pernell Whittaker. Every other guy in Tito's title reign, and almost all opponents before that, fell before his fists.
[Also See: Top 10 Welterweights in Boxing History & Top 10 Hardest Punchers in Boxing Today]
3. Jose Napoles (54 KOs, Kayo Percentage: 66%)
The legendary Cuban banger had two distinguished title reigns in the 1960s, with a pile of kayos to go with it. He stopped Curtis Cokes twice; got revenge on Billy Backus by TKO, and as a rule at least knocked down the guys he didn't knock out. The sole blemishes during his second and lengthy title reign were going up to middleweight and losing to Carlos Monzon, and the last bout where he was stopped on cuts. Napoles retired thereafter, but even that opponent got dropped. This was a guy who hung onto the World Welterweight Title against all comers and for years, and largely on the basis of his power.
4. Tommy Hearns (48 KOs, Kayo Percentage: 78%)
The case for Tommy Hearns is so well-established that the main question for most will be "why is he only at #4?" The answer is that he didn't actually do much at welterweight. He crushed Pipino Cuevas, Randy Shields, and a couple of other guys as WBA welterweight champion. Then Hearns lost his classic encounter with Sugar Ray Leonard by the narrowest of margins, a fight that he competed in by turning boxer. After that, Hearns never fought at welterweight again. Hearns was an undoubted wrecking machine, and would no doubt have torn the welterweights who emerged in the wake of the "Three Kings" (Hearns, Leonard, and Duran) to pieces had he stuck around, but he didn't. And that's why he is only #4.
5. Barbados Joe Walcott (104 KOs, Kayo Percentage: 62%)
Despite being a member of that often-overlooked class of Turn of the 20th Century Boxers, with a foot in the 19th and a foot in the 20th, Walcott's prowess and power remain legendary. Nat Fleischer called him the greatest welterweight of all-time, and he repeatedly appears highly ranked not just on lists of welterweights and welterweight punchers, but of the greatest punchers ever.
* I'm sure many fight fans will question the absence of Manny Pacquiao from this list. If I were composing a greatest puncher's list for featherweight, Pacquiao would be on it. At 147 lbs, however, Pacquiao has only one big knockout, and that his TKO12 of Miguel Cotto.