Ward vs. Green in Stage 2 of the Super Six Tournament
On June 19, 2010 current WBA World Super Middleweight Champion Andre Ward will take on Allan Green (Jermain Taylor's replacement) in stage 2 of the Super Six Super Middleweight Tournament. This fight for the WBA Super Middleweight title will take place in Oakland California, the hometown of Andre Ward. Green has not fought yet in this tournament. He is replacing Jermain Taylor who was knocked out in his first fight against the German/Armenian fighter Arthur Abraham.  On the other hand, Ward is coming off of an impressive win over the always tough Mikkel Kessler. This is a good matchup for the up and coming Ward and will prove to be a fast paced and exciting battle.
Andre "S.O.G." Ward

21-0 (13 KO's)

Oakland, California

Height: 6'1"

Reach: 73"

WBA World Super Middleweight Champion

Last 5 Fights – Andre Ward is coming off of perhaps the most impressive win of his great career. In November of 2009, Ward defeated Mikkel Kessler to win the WBA World Super Middleweight title, delivering Kessler a bad loss: His first loss since losing to Joe Calzaghe back in 2007. This fight proved that Ward is a world class fighter who has a wide array of skills in the ring.

Before the Kessler fight, it was obvious that Ward was skilled, but some questioned whether he had the skill and power to hang in there with the big boys. Defeating Kessler in dominating fashion proved this and proved that Ward has a great career ahead of him.  Some of his other recent career highlights were defeating Henry Buchanan and Edison Miranda to maintain his WBO NABO Super Middleweight title and win the vacant NABF title.

Allan "Ghost Dog" Green

29-1 (20 KO)

Tulsa, Oklahoma

Height: 6'2"

Reach: 73"

Last 5 Fights – Although Green has not fought yet in this Super Six tournament, he has compiled a 6 fight winning streak spanning back to his 2007 loss to Edison Miranda. Most recently, he defeated the previously undefeated Tarvis Sims by unanimous decision. Some of his other big recent wins include stoppage victories over Carlos DeLeon Jr., Sherwin Davis and the veteran Carl Daniels.

The only blemish on Green's record thus far is a unanimous decision loss to Edison Miranda. Some of the fighters Green has stopped are decent fighters but none match the up and coming talent of Andre Ward.
Ward vs. Green Preview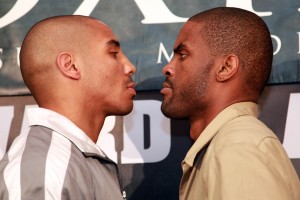 Both fighters are extremely athletic and versatile with fast hands and great movement. This fight will be fast paced and exciting and is probably one of the most viewer friendly matchups of the Super Six tournament so far due to the fact that their styles have the potential to mix well together in the ring.  One thing to take note of is their performances in their most recent fights.
Both were victorious, but Ward looked much more impressive in his win. Ward proved his potential and big fight ability with an impressive upset over former WBA Champion Mikkel Kessler and his confidence will be peaking after this fight.
Who wants it more? Some may claim that Ward is now in a nice little comfort zone and may be surprised by the talented Green but I believe that Ward is just as hungry. This win against Kessler does not prove that Ward can relax. This win against Kessler proves that Ward can hang in there with the top fighters in the division and I'm sure he is fueled by the thought that he has a shot at winning this tournament and that if he keeps up these kinds of performances, fights against Kelly Pavlik and the heavily avoided Paul Williams are looming.
However, Green should not be overlooked. He is extremely hungry and is "happier and more excited about boxing than he's been in years." Green was willing to fight Sakio Bika for a box-off to determine who got to replace Jermain Taylor, but Bika elected not to go through with it, so Green got a free pass into the tournament and is well rested and ready to go against Ward. Another thing that may make Green hungrier is that he's coming into the tournament at a disadvantage since he hasn't gotten any points yet in the tournament. He knows he needs to earn a knockout to earn 3 points and make up for lost ground.
Momentum and Hometown advantage for Ward: The fact that the fight will be held in Oakland definitely gives Ward the mental edge. He will be fighting in front of his hometown crowd while Green, a native of Tulsa, Oklahoma will be far from home. This will give Ward the mental edge and the edge in adrenaline. Aside from the hometown advantage, the performance that Ward put on against Kessler definitely puts Ward in a good spot for this fight against Green. Ward will be hungry, confident and ready to take on Green when April 24 rolls around.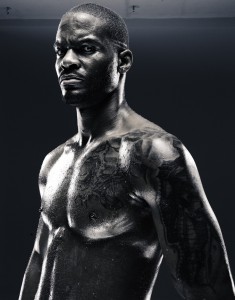 Styles: Green's strength is his ability to punch. He is fleet of foot and has fast hands but his greatest asset is his ability to land that one big punch that changes the outcome of the fight. Out of his 29 victories, 20 have been knockouts and he knows that he needs another one of those to make up for lost points.
Ward is not known as much for his power, but is more known for his hand speed and ability to adapt his style and throw quality straight shots. With his win against Kessler it became evident that Ward is willing to adapt his style and do whatever it takes to win, even come forward against dangerous fighters with great power. Although Green may have the more powerful punch (especially the left hook), Ward is the more versatile of the two fighters.
Ward vs. Green Prediction
As stated earlier, this will be a fast paced fight featuring two fast, skilled and exciting boxers. They are both coming into this fight at the top of their game and are extremely hungry. The edge in power  does go to Green but I believe the up and coming Ward will come into this fight prepared for anything that Green throws at him.
This fight has all the makings of a battle that will go the distance, but I can definitely see a late round stoppage occurring. I believe that Green and Ward will go into the 12th and final round in a closely contested fight with Ward ahead on points but Green earning his share of rounds as well, but in the 12th round, Ward will win by stoppage. After stopping Kessler, Ward, whose knockout power has been questioned in the past, knows that he has what it takes to bring down a top fighter. Expect a very closely contested battle ending with a 12th round TKO in favor of the winner and still WBA Champion, Andre Ward.