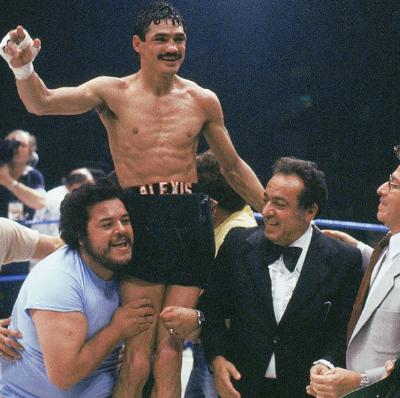 Drug Use Changed the Boxing World
If cocaine was never created, you can be sure a lot of things in boxing, especially in the 80's, would have been different. On one hand, if the drug didn't exist, many boxers would have found other vices to complicate their lives and careers. It's not like cocaine diverted the attention of people who would have otherwise been working with blind kids during their off time.
At the same time, boxers were long able to juggle their vices with their careers until cocaine use became rampant. Boxers drank, smoked, gambled, cavorted, and god knows what else, but still managed to keep their careers afloat. Not too many fighters, however, have been able to stay near the top of their game for too long with a cocaine problem. It gets them all in the end.
In the 70's, cocaine had a more benign, fun-loving vibe. Looking back, you might picture a scene out of Studio 54, people having a festive time in a consequence-free environment. It got ugly quick in the 80's. When you think of cocaine in the 80's, you're more inclined to picture the advent and proliferation of crack—featuring urban-blight and destroyed lives. Boxing was a microcosm of this transformation, and though the crack epidemic is over, its use has a lasting legacy in the sport.
So how would the history of boxing in the 80's and into the 90's be different?
The Heavyweight Division:
Looking back, one might say the omnipresence of cocaine in the 80's was a bigger asset to champion Larry Holmes than his jab. One promising contender after the next pulled the rug from under his own career by getting mixed up in the devil's dandruff.
Leon Spinks: Leon didn't go from Heavyweight Champion to one of the worst heavyweights in the world for no reason. Was he a flash in the pan? Maybe, but his frenzied lifestyle didn't help. If he stayed straight, (assuming he ever was) he could have won the Ali rematch and maybe given Holmes a better challenge.
Michael Dokes: Already deep into coke by the time he reached the world-class level; he is one of the great what-ifs in boxing history. One of the fastest heavyweights of his era, Dokes blew it all over cocaine. Once got out of a cocaine distribution charge after being caught with a kilo of the drug when his lawyer successfully argued, "Michael Dokes buys cocaine the way you and I buy potatoes." Seeing a ravaged and over-the-hill Dokes give a young Holyfield hell before losing makes you really wonder what could have been.
Pinklon Thomas: The prodigiously gifted Thomas had long been a drug abuser, so perhaps his descent was more predictable for those close to him. With a world-class jab, Thomas was at one time being seriously touted as Holmes' heir-apparent. Late nights and self-abuse soon robbed him of all his resolve, taking him from a world champion to a trialhorse in a few years time.
Gerry Cooney: For all the flack he catches, he still managed to give a dead-prime Larry Holmes a very difficult night in 1982. At 25, he conceivably could have rebuilt. With that sledgehammer left hook of his, a serious-minded Cooney could have remained a factor for years. He could have received a rematch with Holmes, been a more serious challenge to Michael Spinks, or even got in on the Mike Tyson sweepstakes.
Tony Tubbs: Could box like the dickens when he was right. Tubbs was a fantastic fighter with speed, power, and agility. While he would show flashes of his best form for a long time, a debilitating coke habit that still plagues him today sabotaged his career. He was only a fraction of what he could have been.
John Tate: Maybe Mike Weaver, who came from way off the pace to starch Tate in the 15th round of their title fight, created a blueprint on how to beat Tate that would have made it difficult for him to rebuild. However, a young Tate should have conceivably been able to come back strongly after that setback. With great physical gifts and a good amateur pedigree, Tate could have secured a number of big-money fights in the 80's if his drug problem didn't get the better of him.
Oliver McCall (90's): One of the most naturally durable heavyweights of all time with one-punch KO power. The difference in McCall's performance from his first fight with Lennox Lewis to his second fight with him shows the deteriorating affects the drug had on his career. But still, even in the midst of a total breakdown, he was still somehow able to eat all of Lennox's shots. If he was able to conquer his demons, he could have been a fixture in the heavyweight scene for years to come. He would have probably got a shot at a comebacking Tyson for millions. Who knows, instead of Lamon Brewster knocking out Wladmir Klitschko, maybe McCall would have been in that spot. We'll never know.
Let's take a look at other fighters whose cocaine use changed the boxing landscape. A division-by-division breakdown, while easier to do with heavyweights, would be too speculative for the lower weight classes, so let's just do an individual analysis on these fighters.
Esteban DeJesus: The first man to defeat Roberto Duran had a Hall of Fame career. His skills were compromised by his heavy drug use, which began in the 70's and eventually led to his death. Was only 28 when the 80's began and he could have continued on as a factor in the junior welterweight division. A better-preserved DeJesus could have been very competitive against Benitez or Pryor. Instead, he was washed up by his mid-twenties. Could his drug use have prevented him from being an undisputed all-time great? It's very possible that it did.
Sugar Ray Leonard: Took up the drug during his early forced retirement due to a detached retina. It's difficult to say his drug use really hampered his career. After all, he still managed to accomplish an awful lot. Perhaps a straight-and-narrow Leonard, however, would have made his comeback sooner. Maybe he would have been in a better state of mind for the Kevin Howard comeback fight, a bout where Leonard was dropped causing him to retire again immediately after the bout. Without his cocaine problem, maybe we get Leonard-Hagler a few years earlier and perhaps his career trajectory takes a significantly different course.
Aaron Pryor: One of cocaine's worst casualties in sports history. Went from one of the top fighters in the game to a stumbling bum in a few short years. While it's possible that Pryor's drug use came at the end of his string of dominance, it's probable that he missed out on a few big fights because of this. A fight with Leonard could have been made, but never came off. He could have moved into the resurgent welterweight scene of the mid 80's. No one would have minded what for sure would have been a barnburner with a young Donald Curry. None of it ever happened. Instead we saw a coke-decimated Pryor get throttled by unexceptional fringe contender Bobby Joe Young.
Alexis Arguello: It's a stretch to say the drug did that much damage to Arguello's career. Nevertheless, he could have ended his career far more gracefully if not for his cocaine issue. With the demise of Pryor, a straight and dedicated Arguello could have taken over at 140 lbs for a while at least. The post-Pryor era was relatively mediocre and a better-preserved Arguello would have been right in the mix. Maybe he could have secured another big win or two. More importantly, maybe he would have been spared some of the psychological damage that caused him to eventually take his own life.
Wilfred Benitez: Another fighter who at least managed to have a very productive prime before falling prey to cocaine. By the time he got in the ring with Mustafa Hamsho, Benitez was burning the candle at both ends. To see a fighter who recently beat Duran and lose to a prime Tommy Hearns by a small margin struggle so mightily with the crude Hamsho shows how far he had fallen. His form in 1982 was still solid, but by 1983, he was a shell while still in his mid-twenties. It's not that difficult to imagine a dedicated Benitez getting a lot more work done—a rematch with Duran or an intriguing challenge of Marvin Hagler.
Hector Camacho: A great talent. Probably did enough to get in the Hall of Fame (if he ever retires), but really had the talent to be an all-time great, a status he fell short of. By the late-80's he seemed more interested in partying than fighting. At a time when he should have been kicking his career into the next gear, he lapsed into a schedule of one fight per year, and fell off the boxing radar to a large degree. There's no reason to think he couldn't have figured prominently in the circles of Meldrick Taylor, Pernell Whitaker, Julio Cesar Chavez, and others had he kept his head screwed on right. Instead, he was reduced to opponent status, becoming one of the great "what-ifs" of the era.
Edwin Rosario: Cocaine rendered him a shell of his former self by the time he was 26. Still had a lot of fight in him, as evidenced by the occasional power surges he continued to show after falling prey to the drug. While he might never have been a great fighter and the Chavez fight did take an awful lot out of him, Rosario robbed himself of the chance to extract a little more glory out of his career.
Frankie Randall: Watching the even-older Randall beat an aging Chavez made some observers wonder what could have been. Randall was poised to become a top lightweight in the mid-80's before falling prey to cocaine. He cleaned himself up enough to make a nice run in the mid-90's, but he really threw away his best years. Within a few years of beating Chavez, Randall was finished as a top fighter. There was more he could have done. Imagine a clean and dedicated Randall in the 80's when 135-140 had a ton of great fighters. He might have won some, lost some, but he certainly would have a better resume if he stayed on the straight and narrow. It's not too difficult to imagine him beating the likes of Bramble, Rosario, Mayweather, and others had he kept himself straight.
Rocky Lockridge: Maybe cocaine didn't hurt his career as much as the others. He was never that great to begin with, but still managed to build quite a resume at junior lightweight. It did hurt his longevity, however. At a time when he could have put his career into overdrive, it stalled out. He seemed strangely impotent in the Tony Lopez fights and it's difficult to say his lifestyle didn't play a role in that. After all, he lost to Chavez by only a majority decision and had since won a title and was putting together some nice defenses before suddenly bottoming out. Perhaps he could have made a little more money and at least managed to stay off the streets, where a now-homeless Lockridge resides.
Michael Nunn: A fighter who was this close to being great. After upsetting Frank Tate for a title he put together a nice string of defenses that had the boxing world excited. His one-punch KO over Sumbu Kalambay made him a hot property. Then he suddenly lost momentum with ho-hum defenses over Iran Barkley, a majority decision over a much smaller Marlon Starling, and a disappointing win over a shot Donald Curry. By the time James Toney relieved him of his laurels, he appeared to have lost his way completely. We now know why. Without cocaine in his life, he would have at least been able to rebuild after the Toney fight, something he was unable to do. Went on sputtering for several more years, finally ending up in prison where he is now serving a long sentence.
Johnny Tapia: The man had very real demons. He did manage to conquer them for long enough to compile a borderline Hall of Fame career. For those who remember his form before cocaine got the better of him when he was a young rising contender, it's difficult to say the drug didn't mess up his career in a big way. Right when he was coming into his own, was forced into a sabbatical for several years to deal with an awful cocaine habit, setting his career back at least three years. When one reflects on the latter part of his career where he struggled, try to imagine Tapia in those fights 3 years earlier and with a lot less mileage on his body. Did he have a very good career? Yes. Could he have done better? Sure. Either way, it would at least be nice to see him live out his retirement years free of the torment that plagued him as a young man. That's if he ever retires.
Pernell Whitaker: By the time cocaine got a hold of "Sweet Pea," he had already put together a HOF resume. So maybe it didn't change an awful lot. But watching him give Oscar De La Hoya fits in a losing effort and lasting 12 rounds with a dead-prime Felix Trinidad solely off his guile, maybe he could have done a bit more. A clean Whitaker would have been a lot more difficult for Trinidad to beat. He could have at least rebounded and played a role in the welterweight division after De La Hoya and Trinidad moved up. It's not too hard to imagine the masterful "Sweet Pea" faring well in the circles of Corey Spinks, Carlos Baldomir, and Zab Judah even in his late thirties. As it is, he still has a heck of a career.
Conclusion
The 1980's were one of the greatest decades in boxing history. One would be hard pressed to say cocaine use sabotaged the decade since it was so good. However, many of the standouts from that time could have actually done a lot more. The brutal nature of the sport, combined with copious amounts of self-abuse taking place at the time made this era one of the more tragic in recent memory.