The Andre Ward vs. Kelly Pavlik fight has been officially cancelled. Ward vs. Pavlik was supposed to be held on January 26th, however, Ward suffered a shoulder injury while sparring and the fight was going to be postponed.
Dates at the end of February and beginning of March were being looked at to move ahead with the card and reschedule this fight. However, the fight has been entirely cancelled now, as Ward has confirmed a tear in his shoulder capsule, and will be having surgery in order to fix the tear and recover as completely as possible.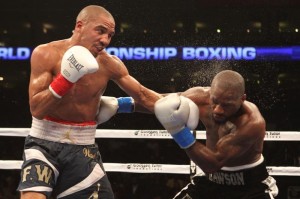 It's disappointing news, and not because Ward vs. Pavlik was such a great fight — it was an OK fight — but because it's the second recent injury that is keeping Andre Ward on the shelf. Currently regarded as the number 2 pound for pound fighter on the planet, he fought only once in 2012 due to injuries following his Super Six Tournament victory over Carl Froch.
Now, he'll be on the sidelines for at least the few months of the year, likely until late spring or early summer.
According to the above linked article from ESPN, Ward says he still wants to fight twice in 2013. Let's all hope that's the case, because it would be a shame for somebody like Ward to lose so much momentum with his career at the absolute peak of his abilities due to back-to-back injuries.
There's no exact timetable for his return, or potential opponents lined up at this time. We haven't had any news about Kelly Pavlik's next move in the aftermath of this either.