British Olympic Gold medalist to debut on October 5 at The O2:
Anthony Joshua has signed a long term promotional deal with Matchroom Sport and will make his debut at The O2 in London on October 5. Anthony Joshua surprised some by not leaving for the professional ranks immediately following his gold medal win at the London 2012 Olympics. However, he's ready to take the leap now, and he's a prospect who is sure to generate a ton of interest and intrigue as he begins his progression.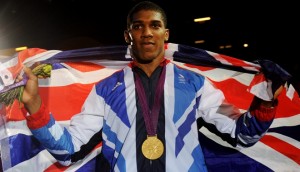 The Olympic super heavyweight star joins fellow Gold medalist Luke Campbell and Team GB captain Thomas Stalker in Eddie Hearn's blossoming stable of the cream of British fighting talent, and will top a fantastic bill in Greenwich. Campbell and Joshua represent both of the British men's gold medal winners at London 2012 boxing competition.
The 23-year-old swept to glory in east London last summer beating the reigning Olympic champion Roberto Cammarelle via a count back. Many watching the bout actually believed that Cammarelle deserved to win, but nevertheless, it was quite an accomplishment for Joshua, and his potential is certainly unlimited with his size and athleticism.
The decision to turn pro now also comes at an interesting time for Joshua, following the demise of British heavyweight hope David Price. Price, a former bronze medalist, had been undefeated and heavily hyped before being stopped by American Tony Thompson twice in succession. With his size and skill, he was believed to be the heir apparent in the division. Now, he's in need of extensive rebuilding, which of course neatly leaves room for Joshua and his promise of the future for the British heavyweights.
Joshua and his new promoter Eddie Hearn will reveal full details and speak to the media at a press conference in London on Thursday.