Almost as soon as David Price was waved off and into a TKO5 this weekend, boxing's conventional wisdom became that the British Olympic medalist was never cut out for pro competition, and that his time was done. According to Price's script, Tony Thompson's knockout victory in the first fight was a fluke and the result of his own complacency, so he would naturally triumph in the rematch. That didn't happen, and since Thompson was playing gatekeeper to Price, the fact that Price didn't get past the gate leaves his future severely in doubt.
In some ways, Price is reminiscent of Audley Harrison, another British heavyweight who flamed out upon stepping onto the world stage. As an amateur, Harrison had a sterling pedigree crowned by a super heavyweight gold at the 2000 Sydney Olympics. Upon turning pro in 2001, he was touted as the next Lennox Lewis.
Unfortunately for Harrison, his professional development only proceeded so far. In Harrison's 2005 gatekeeper fight with Danny Williams, he dropped a points loss. That was followed by another points loss to Dominick Guinn, and that Harrison avenged his loss to Williams by knockout didn't matter much, as he lost his very next fight to journeyman Michael Sprott by TKO. After that, Harrison's career was permanently consigned to that of "name" fringe contender. David Price himself stopped Harrison in a single round last year.
Is Price Done?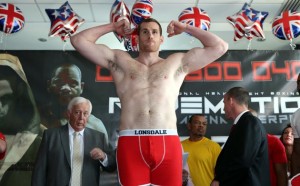 Odds are that Price will follow the Harrison model, or drop out of the game altogether, since that is usually what happens when an up-and-comer is shown to be not quite up to snuff. Yet the road followed by Audley Harrison and many others is not the only one. Lest anyone forget, reigning heavyweight champion Wladimir Klitschko followed a very bumpy road to his current dominance of the heavyweight division.
The period in Klitschko's career that most resemble what happened to David Price in his two matches with Thompson spans 2003 to 2005. Like Price, Klitschko had not yet perfected the fine art of applying his height and reach to cover for his objective deficits in close quarters combat. The results led many to write Dr. Steelhammer off: Corrie Sanders and Lamont Brewster crushed him in 2003 and 2004, and Samuel Peter came very close to doing so again in 2005.
That first bout with Sam Peter was the last time an opponent proved capable of exploiting Klitschko's flaws. From that point forward, Emmanuel Steward's guidance, experience, and growing confidence slowly turned Wladimir into an unapproachable machine, capable of dishing out grinding, long range attrition against all comers. At 6'8″ with an 82″ reach, and endowed with undoubted athletic prowess, who is to say that with the proper guidance David Price could not do the same?
Which Route?
A third example as to what might become of Price is that of fellow Briton Amir Khan, who managed to get back on track after his embarrassment at the hands of Breidis Prescott to enjoy a good run. Khan's problem is that his china chin never really went away, and he lacks the tools to prevent absolutely everyone in his division from exploiting it. Even so, no one doubts Khan is a solid, world class junior welterweight/welterweight contender. Perhaps Price too will get back on track, enjoy a good run of success in well-made matches, and then hit a stumble and fall into the middle tiers of the heavyweight division.
Recent history dictates that it is simply too soon to write David Price off. The only thing that is absolutely clear at this point is that Price needs to go back to Square One, rebuild his approach to fighting as a pro, and come back when he is better tuned and more seasoned.